Pride Month is back! Players and Rioters come from a wide range of diverse backgrounds and we're excited to celebrate Pride together, both in-game and out. For Pride this year we worked with a bunch of incredibly talented LGBTQIA+ community artists from around the world to create artwork celebrating the theme "Proud and Fierce."
In-game our Pride collection is growing once again. Since we first started celebrating the LGBTQIA+ community with in-game content in 2018, the collection has only grown with more communities, options, and styles to celebrate and represent the mosaic of individual human identities. Read on for the free new content coming to our games, a note on how we are approaching LGBTQIA+ storytelling at Riot, and check out the artwork and the stories of the community artists.
Pride In-Game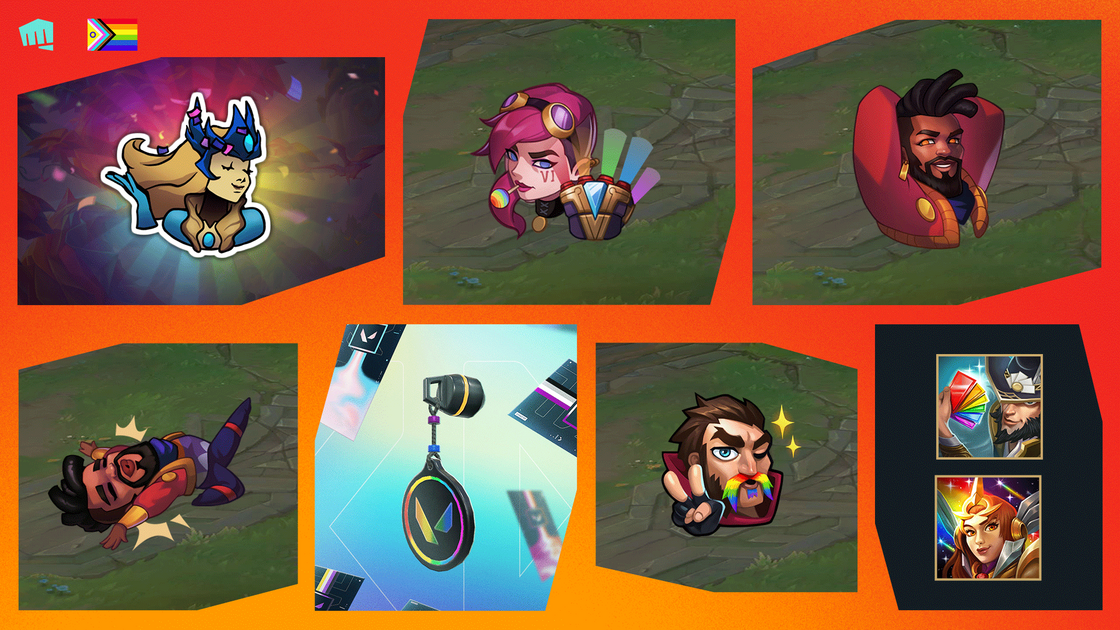 All of our games will have new unique content for Pride. There are several new emotes, icons, and titles, plus tons of returning content, all available to players free. For details on what's available in game and how to get it, check out the articles on Leagueoflegends.com for all Runeterra-based games, and VALORANT's social channels for their content.
Pride Stories on Universe
This year we don't have a new story coming to Universe for Pride. In the past we've deepended the lore of long-standing characters with new stories that landed in June like the Boys and Bombolini and Rise With Me. We've also used Worlds as the backdrop for creative collaboration with a world-renowned pop star and queer icon like Lil Nas X to bring K'Sante's champion launch to life. And we dropped a picture of Killjoy and Raze kissing on a Sunday in December because… it just felt like the right time.
At the end of the day, identities shouldn't be tied to a particular month. We believe authentic representation makes for better game experiences 365 days a year. We take our characters' stories and identities very seriously and we want to share who they are in organic ways that make sense for each character. So while we won't have a new story coming this Pride, we are going to tell, and will continue telling, these stories when the time is right by taking advantage of the full calendar year for LGBTQIA+ storytelling.
Meet the Community Artists
For Pride this year we're sharing our canvas with some incredibly talented LGBTQIA+ community artists from around the world. We gave them a simple art direction: "Fierce."
You can see the art they created below, check out their personal profiles for all their artwork, and learn about who these artists are and why art is so important in their lives. We will be featuring their work across our social channels all month so be on the lookout for beautiful art hitting your timelines soon.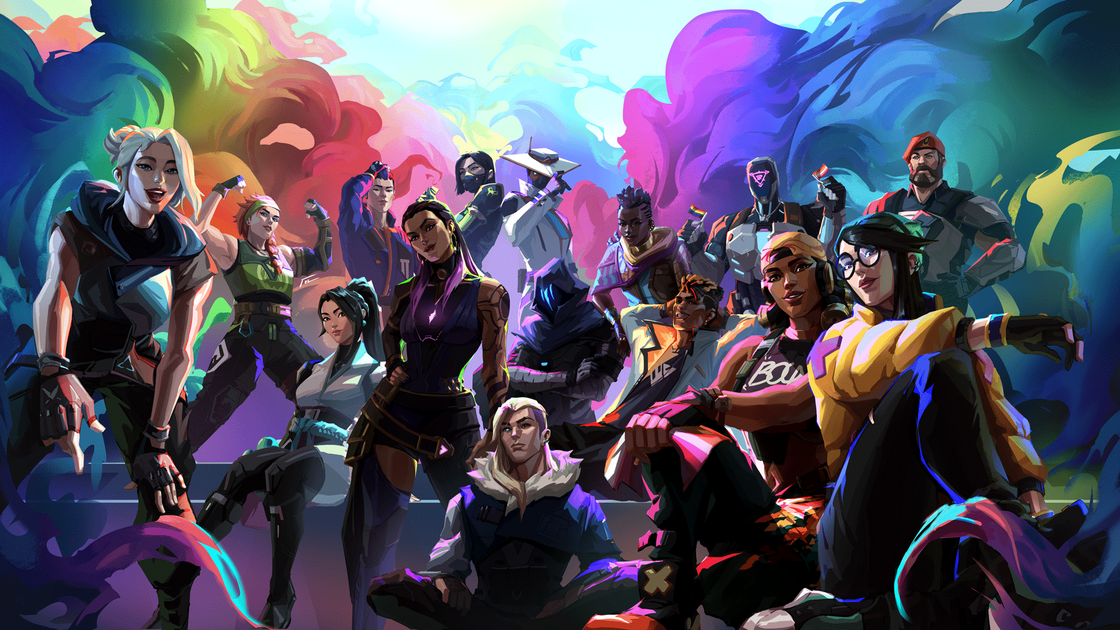 Luz Danaee
VALORANT
She / They
Check out their artwork on Twitter
Back when Luz was in school, she was looking for a new game to play and their friends suggested a game called League of Legends.
"I got into it pretty quickly and I started creating art around games about that time," Luz said. "It's just something that happened and now it's been 10 years of creating art and playing League."
As you can see in their artwork, their favorite champion is Katarina, the king-killing Noxian assassin with a more complex personality than her blades may imply. While Katarina reigns supreme for Luz's attention in Runeterra, it's now an Agent in the VALORANT Protocol who she showcases on her avi.
"A few of my friends played VALORANT before I could and they streamed it to me," Luz said. "It was my first time trying an FPS game but the music and characters made me want to play it. Killjoy is my favorite. I saw her get added to VALORANT and I just had to play her. I even have a similar yellow jacket as her. Once I started playing I started making art for the agents, because they are so modern I like to dress them up in outfits they would potentially wear. It's easy to imagine the Agents outside of the game as real people."
Whether it's the sinister blade from Noxus or the genius from Germany, the characters Luz draws have one thing in common.
"I like the way that games show female characters powerfully, especially in the Riot universes," Luz said. "That's a big focus for me in my art, I love drawing women that are powerful and assertive. The powerful representation of women is my identity and it's my inspiration for my art."
For Luz, games, and the powerful women who lead them, are often the subject. But like Katarina, their art style exists in the shadows, before bursting into light.
"I describe my art as experimental and dynamic but I focus a lot of my attention on the lighting, I think that's what shows that a piece of art came from me," Luz said. "It started with a small obsession with lighting heads in a perfect way to make them pop and make the characters feel truly 3D. It's really perfect for me because my name is Luz which means light in Spanish so it makes sense that's what I focus on as an artist."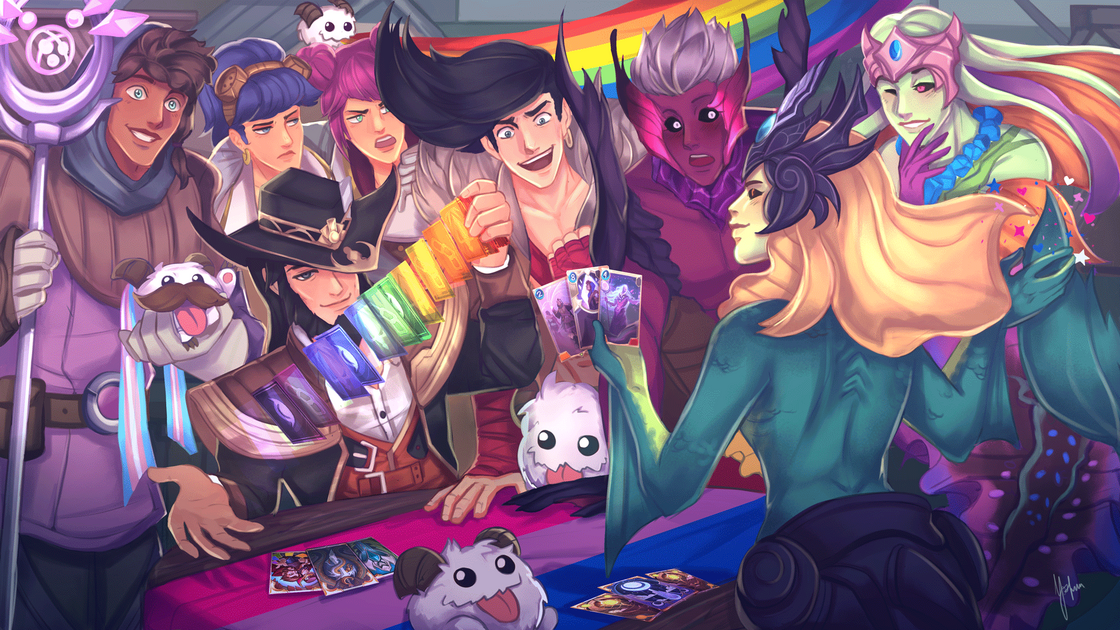 Mango
Legends of Runeterra
She / Her
Check out her art on Twitter
"I've been creating art for as long as I can remember, I feel like I was born with a pencil and paper," Mango said. "My first influences were anime and manga but, after that, team games became such a huge part of my life. I started drawing inspiration from game characters and even started learning English because I wanted to learn more about them and create art that was loyal to their stories.
"I've been playing League for years, and I mean years. I think I started when I was 12 and I'm almost 23 now," Mango continued. "I grew up with these characters and this world. It's such a diverse universe with so many different characters, you can't help but wonder how they would all interact with each other. I think it's fascinating envisioning how this world works. It gets to a point where I don't want to keep my ideas in my head, I have to put them into the world and show someone. That's what drew me to creating art around League and the world of Runeterra."
Mango creates art of champions around Runeterra, her Milio drawing is a personal favorite, but one fan-favorite couple appears more than all the rest in her artwork.
"I focus on making queer stories in my art and, if you know me, you know that I like Sett and Aphelios quite a bit," Mango laughs. "I see myself in them, they're both characters whose themes center around fighting back against people who think they shouldn't be allowed to exist for being themselves. I think that's a struggle that a lot of people like myself can relate to. I especially relate to Sett, he's half-human, half-Vastayan, and I'm bi-racial too, so the way he fights against the people who think he's less than and the way he rises to the top, I find that really inspiring. In my art, I add another layer of my identity which was the queerness and the relationship with Aphelios which isn't present in the lore but I wanted to see myself in their characters even more.
"Being able to see a character and use that inspiration to make them reflect my experience, I think that's one of the coolest parts of being an artist," Mango continued. "Bringing these characters out of their fantasy world and bringing them closer to our hearts makes the relationship with these characters more personal. That's why I love these characters in League, they have their fictional issues with fictional people, but if you bring them to our world they reflect it, they become more relatable, and they become more human."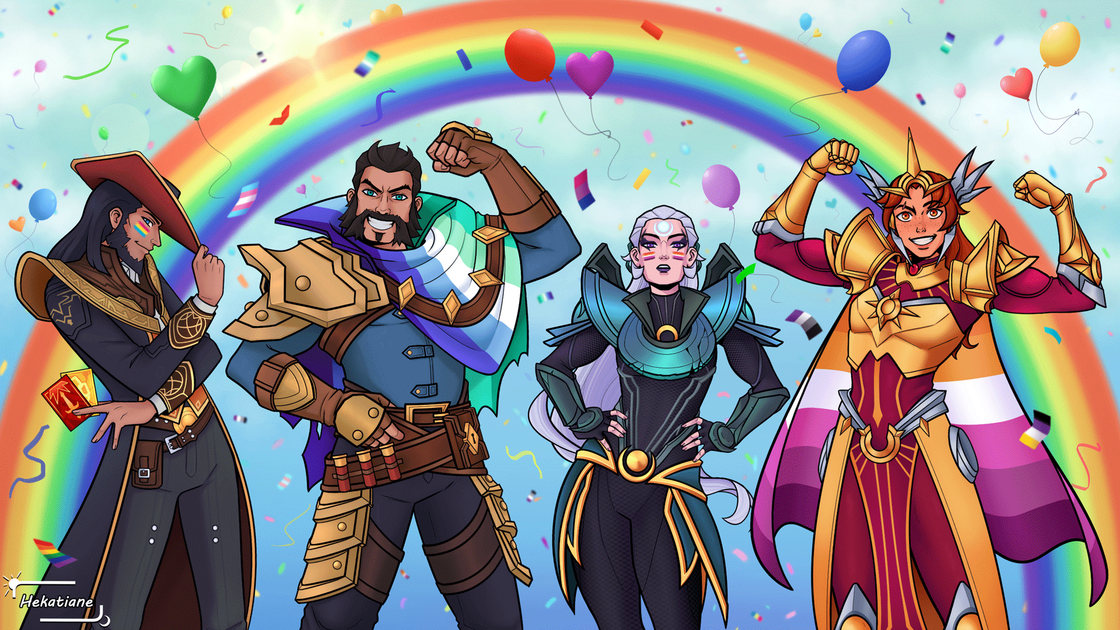 Hekatiane
League of Legends: Wild Rift
She / Her
Check out her art on Twitter
"I've been drawing since I have memory," Hekatiane said. "My drawings around League began when I discovered Diana's lore and everything that surrounded it. I felt really connected with her and her story and wanted to express how her story came to my mind."
Leona and Diana, the sun and the moon, are as intertwined as the cosmos can be. Their story is one of societal expectations, it's a story of battle and glory, but most importantly, it's a story of love.
"I'm a lesbian and I make sapphic content that appeals to me," she said. "Diana's story helped me come to terms with my identity. Her story is a journey of self-discovery and acceptance. When I grew up I didn't have anyone at my side who was LGBTQ so when I read Diana's story, with the queer subtext and how she fit into the world around her, I felt like it mirrored my experience. That's why Diana is a character I explore a lot in my art and that's why she and Leona mean so much to me."
"I'd describe my art as an emotional expression with a bit of storytelling," Hekatiane said. "My identity is right there in the content I produce, art helps me express my emotions and the stories that make an impact on me."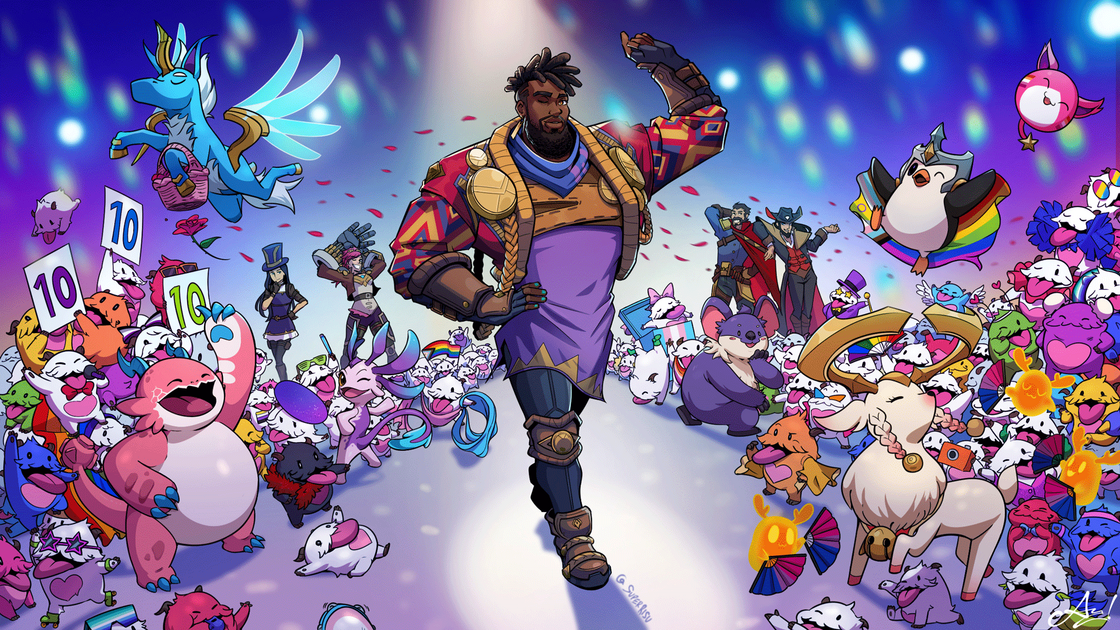 Vivian "SuperRisu" Truong
Teamfight Tactics
She / Her
Check out her art on Twitter, Instagram, and Art Station
"The lore is what drew me into League of Legends," Vivian said. "I liked that every character had a story and a reason why they were fighting. I used to read over the lore for all the characters and was fascinated by the factions and the politics of it. I started to draw a lot of League of Legends art when Vi first came out. She was so different from every female character I'd ever seen before. She was badass, she was punk, and she didn't give a shit. She's just cool. She inspired me to start doing fan art."
Fan art is a big part of Vivian's portfolio and she is also a talented comic artist who is bringing new worlds to life.
"With fan art, you're drawing what you love and you're sharing that with everyone, then other artists keep building off that," Vivian said. "League is such a massive influence for me. I met a lot of my friends from League, my skills as an artist improved because I was creating so much League art, and I've gotten jobs because of my fan art."
Between her love for art, her identity, and her connection to Vi, when Arcane came out, it felt like it was made specifically for Vivian.
"League is so important to me and especially Vi, it's how I found community and friends online when I didn't always have that type of community at home," Vivian said. "It's crazy that one character did so much for me personally and with Arcane it was so amazing to see her get the kind of queer rep that people always identified with her. It's been like eight years of waiting for it and I'm just really happy to be able to see her become her true self in Arcane."
Online communities can be homes for creative self-expression, especially if that type of expression isn't always possible offline.
"I'm a queer Asian, I come from a fairly traditional background," Vivian said. "Being able to draw what I want helps me have that kind of freedom that I don't always get in my home and social life. I can draw what I want and then share that with people who have similar views and interests globally. I like to draw a lot of queer couples and queer characters to help normalize queer people through representation. I want to be able to say, 'This is who I am, there's nothing different about me compared to someone else.' I'm happy I can express myself through art."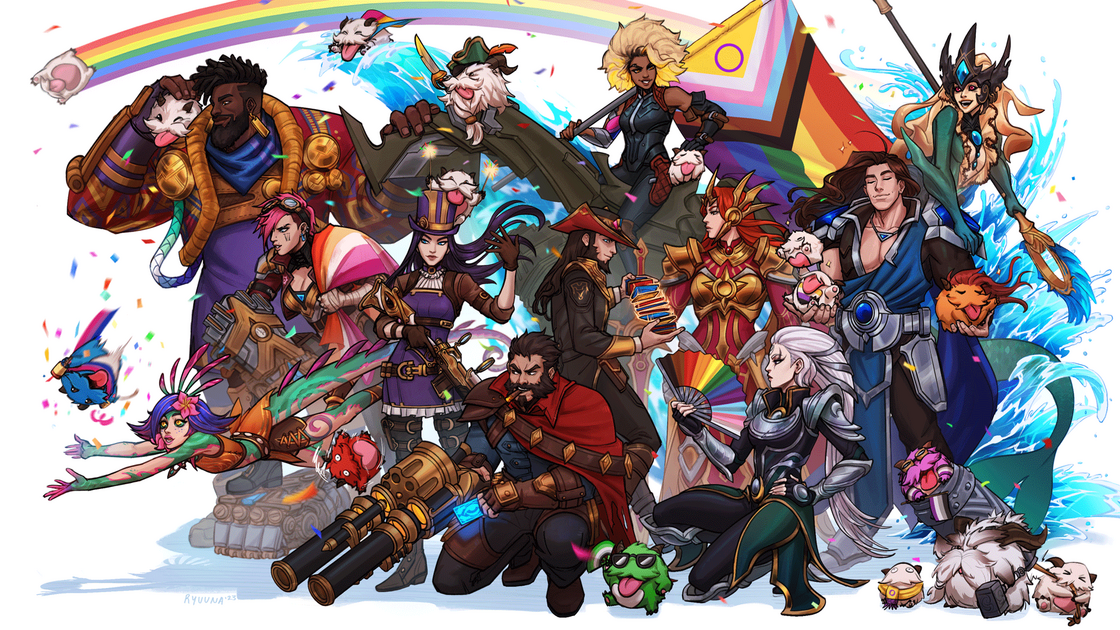 Grace - Ryuun Art
League of Legends
She / Her
Check out her art on Twitter and Art Station
"I wasn't really into games until a friend asked me to play League of Legends when I was in high school," Grace said. "From there, it just snowballed. I got a Steam account, I started expanding my media palette and I've just been creating so much fan art for video games and animation ever since."
Once you go through your first Steam Summer Sale, you really never look back.
"League's lore drew me in and from there I started playing a bunch of RPGs," Grace continued. "I love Ruined King for that reason, I just want to know more about the story. But when it came to my art, I actually started more with my gameplay. I started with little memes or shitpost things that would happen during Rift matches. My friend would be playing Mundo and I'd be playing Riven, my first main, and we'd get absolutely clowned on but then I'd want to recreate it and draw the characters together."

Sometimes characters are designed to be played together like Xayah and Rakan, sometimes they couldn't be more different, but, for some reason, they just work.
"Lore-wise, Mundo and Riven would never speak to each other," Grace laughed. "But you can make them do so many hilarious things because of how the game works, there's so many shenanigans you can pull off."
Her art has come a long way from Mundo memes, she describes it now as a stylized semi-realism that reflects the anime and cartoons she grew up watching.
"Art has always been my way of just letting loose and expressing things that bring me an immense amount of sapphic joy," Grace said. "I'm a simple gal who loves ladies and so I love drawing them a lot. But art is also my escape, I come from a family who isn't great about talking about our feelings, we repress things often, and a lot of people from Asian families know what I mean. It has led to me having a hard time expressing who I truly am in person. Drawing has thankfully been an outlet that has helped me express things I can't ever talk with them about. But online, through my art, I feel like I can show that side of me. It's allowed me to connect with people in this community where I've met lifelong friends. Art helps me celebrate who we are and what we enjoy."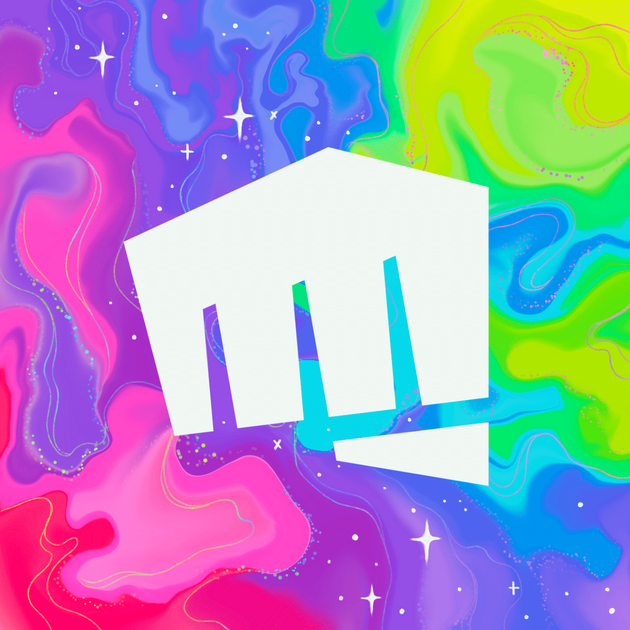 Octavia - Unholythorne
Riot Games Music
She / Her
Check out her art on her Twitter and Instagram
"I've been creating art my whole life but making art around games is fairly new for me," Octavia said. "I've been playing video games since I was a small child so both art and games have been prevalent in my life but they didn't come together with fan art until last year."
While a lot of the artists in this project found their way to fan art through Runeterra and League of Legends, Octavia was inspired by a different universe, one that reflects our own.
"VALORANT made me want to do fan art, I did a Viper piece and that was my first game-related art," she said. "I'm typically drawn to environments and nature in my art so I really love the maps in VALORANT and I've been exploring the worlds that games exist in."
It can be hard to take in the details of the maps when you're holding an angle on B but nonetheless, Octavia finds her moments of inspiration.
"My computer can be temperamental so I have to play with low settings and one day I turned the settings to high just to see and I'd never realized that the flowers on Lotus glow," she laughed. "I've actually gotten taken out during a round because I'll stop at some detail on the map and I'll mention it to my team like 'have y'all seen this lily pad??'"
As an artist, she's drawn to nature but think less about Bob Ross' happy little trees and more about dark forests shrouded in mystery and magic. Certainly fitting for an artist named unholythorne.
"Growing up my life was always changing," Octavia said. "Art has always been this constant in my life, it's always been something that's there for me. It's where I can create my own safe space. Being surrounded by other LGBTQIA+ artists during this project has been great, we all love to draw the female form which is beautiful on its own, and it's been great to be part of this community and to be surrounded by other artists."


ARTeapot
They / Them
Check out their artwork on Twitter and Art Station
"I've been doing game fan art ever since I started drawing," ARTeapot said. "I'm a die-hard Legend of Zelda fan so I spent most of my academy days drawing Legend of Zelda or Kid Icarus themed fan art. I created my first League of Legends art in 2013 when Jinx was released because she looked fun. But it was Illaoi who really captured my heart and I began diving into League as a game."
We were lucky to start this project before Legend of Zelda: Tears of the Kingdom came out so ARTeapot could work on their art before turning their full focus to the next great generation of Hyrulian adventure.
"I'm a comic artist at heart so when I read a champion's story and lore it almost automatically turns into panels and sequences in my head," ARTeapot said. "I care about many champions in League, the way they act, react, and interact. With all the scenarios, alternate skinlines, and worlds in League there are a thousand comics I want to draw and a million stories I want to panel."
Their art style certainly reflects the beauty of comic art. They describe their art as that of "a toddler on acids, purposely drawing like a crazy kid with crayons." Their art is expressive, colorful, complex, and endlessly captivating.
"When I draw stories I put characters in it who are queer because I am that and it's normal for me to be that" ARTeapot said. "What I draw reflects what I feel and who I am. I don't do queer art with the function of expressing being queer, I am queer therefore my art is. Though I live in a country and an age where people like me aren't really welcome, I was very lucky to have enough freedom to decide that what I am is what I am and it's nobody else's business."