From Sailor Moon to Puella Magi Madoka Magica, the Magical Girl or mahō shōjo genre has been a staple for anime fans for decades. As heroes navigate schoolyard relationships by day and superhero duties by night, the Magical Girl genre empowers young women, shows the importance of good friends, celebrates authentic representations of one's self, and, of course, features plenty of awe-inspiring world-saving action.
It's a genre we're big fans of, if you couldn't tell. Star Guardian is our homage to the Magical Girl and, after a few years hiatus, we're excited to be bringing it back bigger than ever in 2022. Your home for all things Star Guardian will be starguardian.com. This interactive website will showcase nearly everything happening across all titles over the course of the event. You'll find stories, music, videos, and plenty more. So check out starguardian.com over the next few weeks to make sure you never miss a beat.
But whether you're a longtime fan of anime or just love seeing this alternate reality for your favorite characters, here's a Valor's-eye view of everything coming to the Star Guardian event this year!
Everything Goes On
We are super excited to be working with Porter Robinson for this event. The vocalist, songwriter and producer is known for bringing a unique and exciting sound to every track he touches, and for Star Guardian, Porter Robinson teamed up with Riot Games composer Brendon Williams to produce and write Everything Goes On. The song tells the story of two Star Guardians, each independently coming to terms with their loss and finding the will to move on with their new comrades.
The song will be available to stream on all major streaming platforms on July 14 and don't forget to check out the Everything Goes On music video on YouTube Premiere too at 8:00AM PT.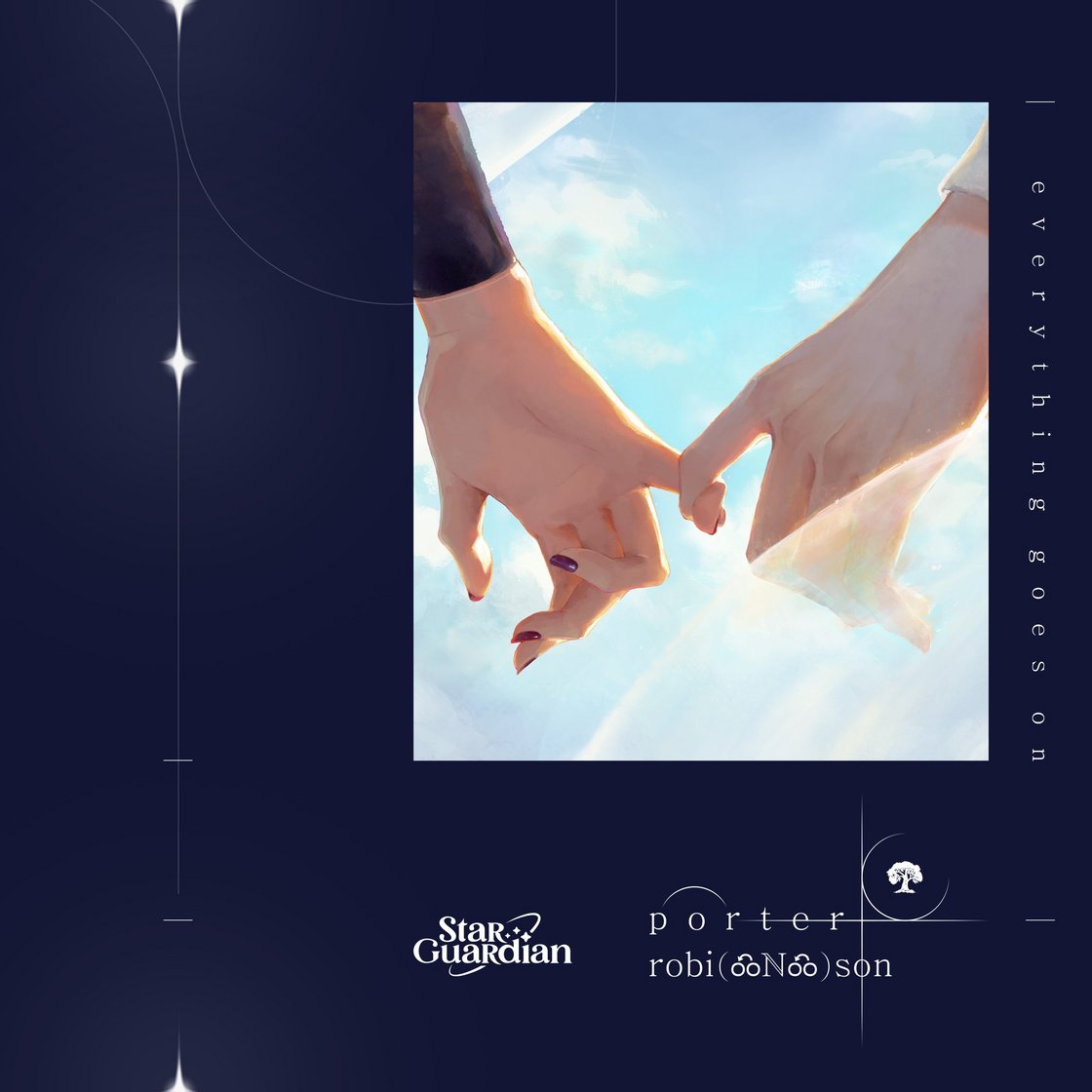 New Stars in the Sky
The fourth iteration of the Star Guardian series will see fresh faces join old favorites on a brand new adventure. Over a ten-week long event, League of Legends, Wild Rift, and Legends of Runeterra will all have their own Star Guardian adventures.
Across the three games, 17(!) champions are receiving Star Guardian skins this year. The most we've ever done for one event. Here's the full rundown:
In League of Legends, we're welcoming a brand new champion, as well new Star Guardians and their corrupted foes from unexpected places.
Champion: Nilah the Joy Unbound (ADC)

Skins: Star Guardian Akali (Legendary), Kai'Sa (Legendary), Ekko, Sona, Taliyah, Quinn, Nilah, and Rell; Star Nemesis Morgana and Fiddlesticks; Prestige Star Guardian Ekko and Syndra

Star Guardian Event Pass

Ultimate Spellbook returns

New Emotes, Chromas, and Wards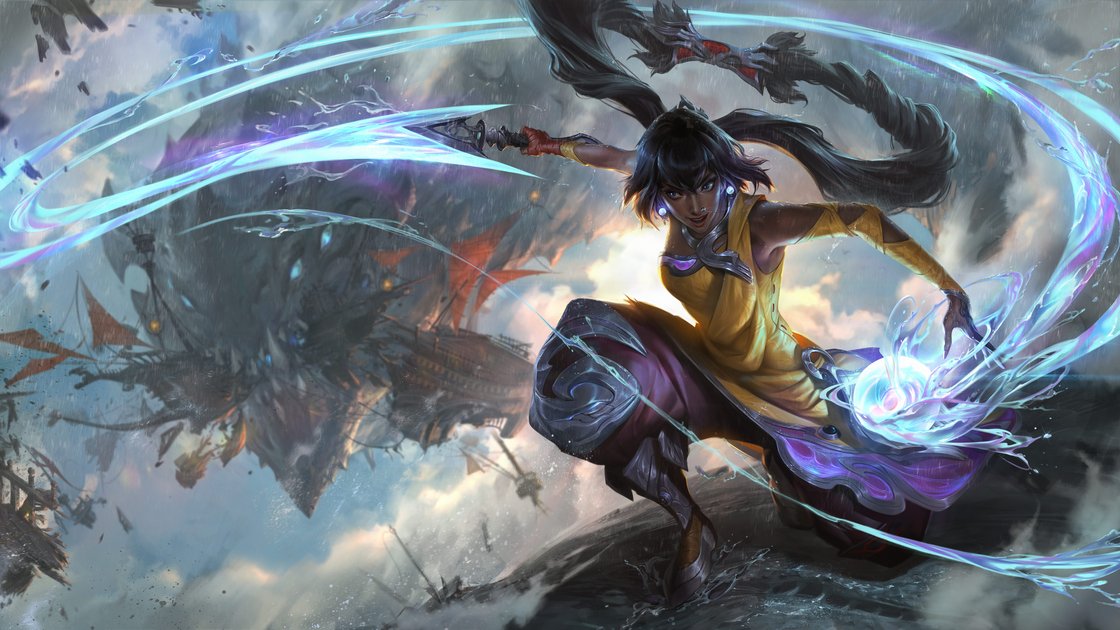 Plus we are launching a brand new, in-client narrative experience called Star Guardian: Another Sky. An unknown evil lurks in the shadows of Valoran City. As this threat emerges, so does a new team of Star Guardians, led by the incomparable Kai'Sa and her best friend Akali.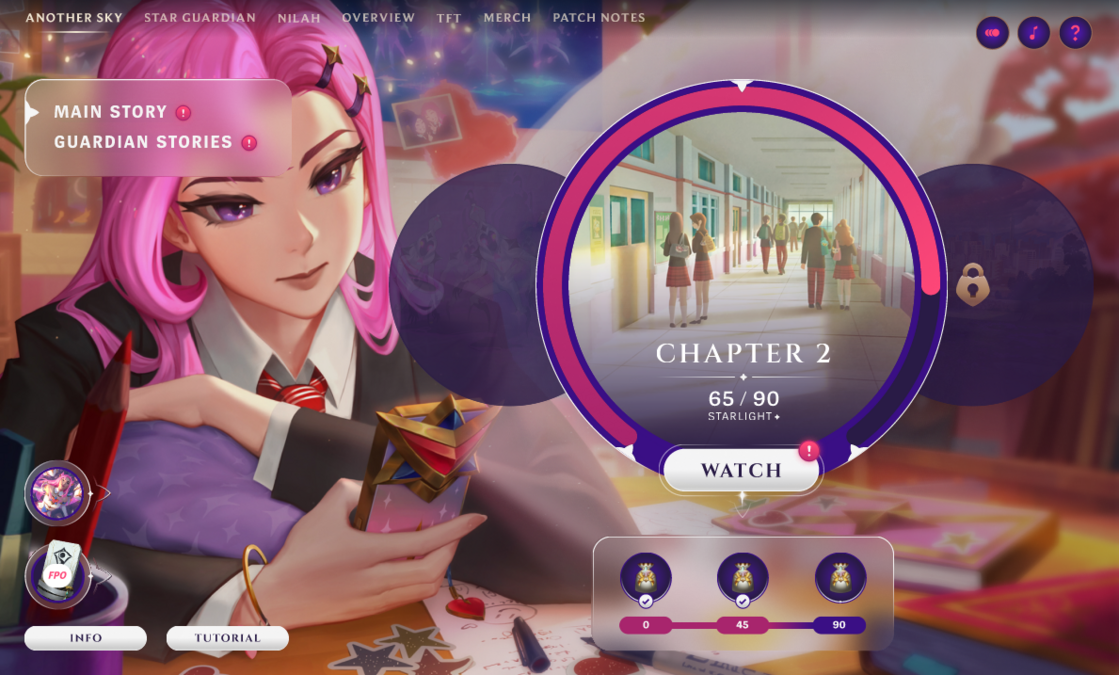 Players will step into Kai'Sa's shoes as she guides her untrained squad, following their journey from ordinary high school students to champions of the First Star. Through games of LoL and TFT, players will progress through a compelling story of love and loss, forgiveness and friendship. At the same time, by completing in-game champion missions, they'll increase their "bond" with the various Guardians, unlocking rewards and discovering new stories along the way.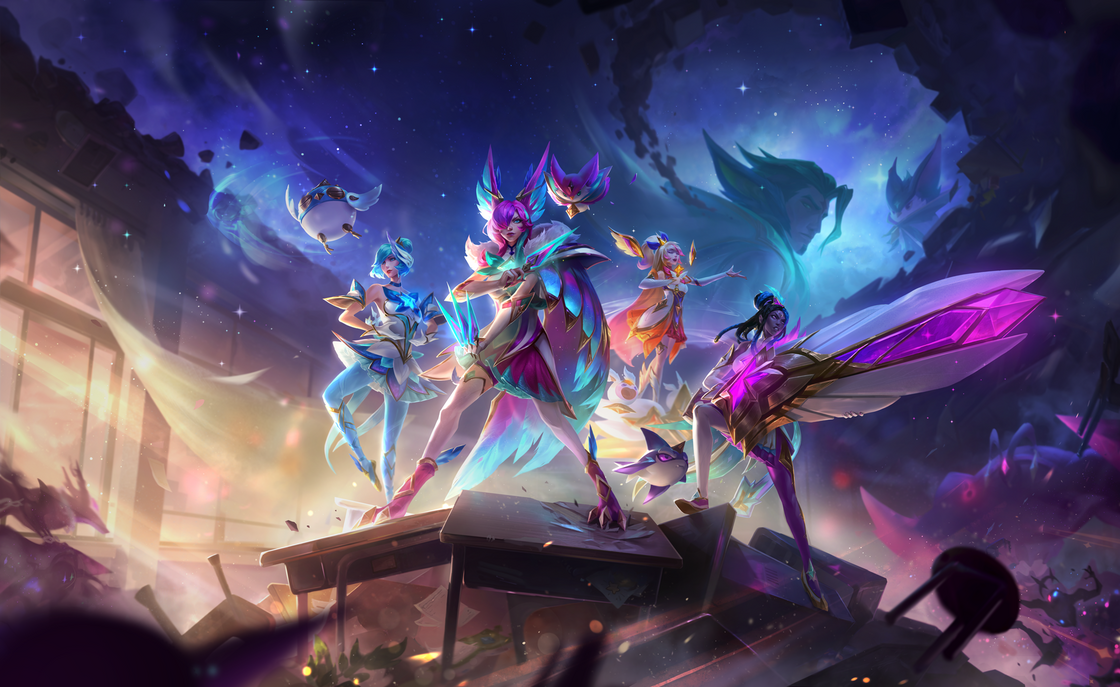 In League of Legends: Wild Rift, new energy radiates out of Valoran City calling Star Guardian veterans to investigate.
Skins: Star Guardian Orianna, Seraphine, Ahri, Senna, Xayah, Rakan, and Miss Fortune; Redeemed Star Guardian Rakan and Xayaha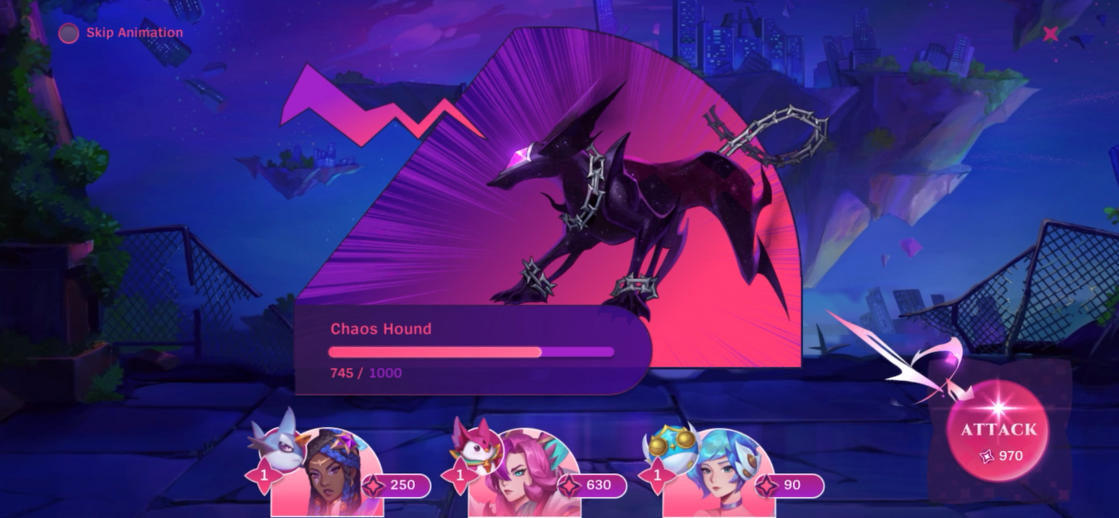 Happening simultaneously alongside the story in League of Legends PC, in Wild Rift, Xayah returns to Valoran City following an energy she recognizes as corrupted Rakan's.
She's brought with her a new team of veteran Star Guardians in Senna, Seraphine, and Orianna; united, they'll have a shot at saving that roguishly handsome fallen Star Guardian. In the Wild Rift in-client narrative experience, players will witness Xayah's journey first-hand. They'll level up their squad and their familiars through a series of in-game missions, battle chaos monsters in combat encounters, and follow the fearless Guardians as they learn to forgive and forge new friendships.
In Legends of Runeterra a group of old and new heroines come to the rescue! Along with some new friends:
Skins: Star Guardian Gwen, Kai'Sa, Jinx, Senna, Quinn, Taliyah, Lulu, Soraka

Additionally, Star Guardian Kai'sa debuts as LoR's first Legendary skin, complete with exclusive card art, new voice lines, and a unique level up animation

Guardians: Star Guardian Drake and Gwen Doll

Board: Starlight Stage Legendary Board

New Emotes & Cardbacks
Sessions: Star Guardian Taliyah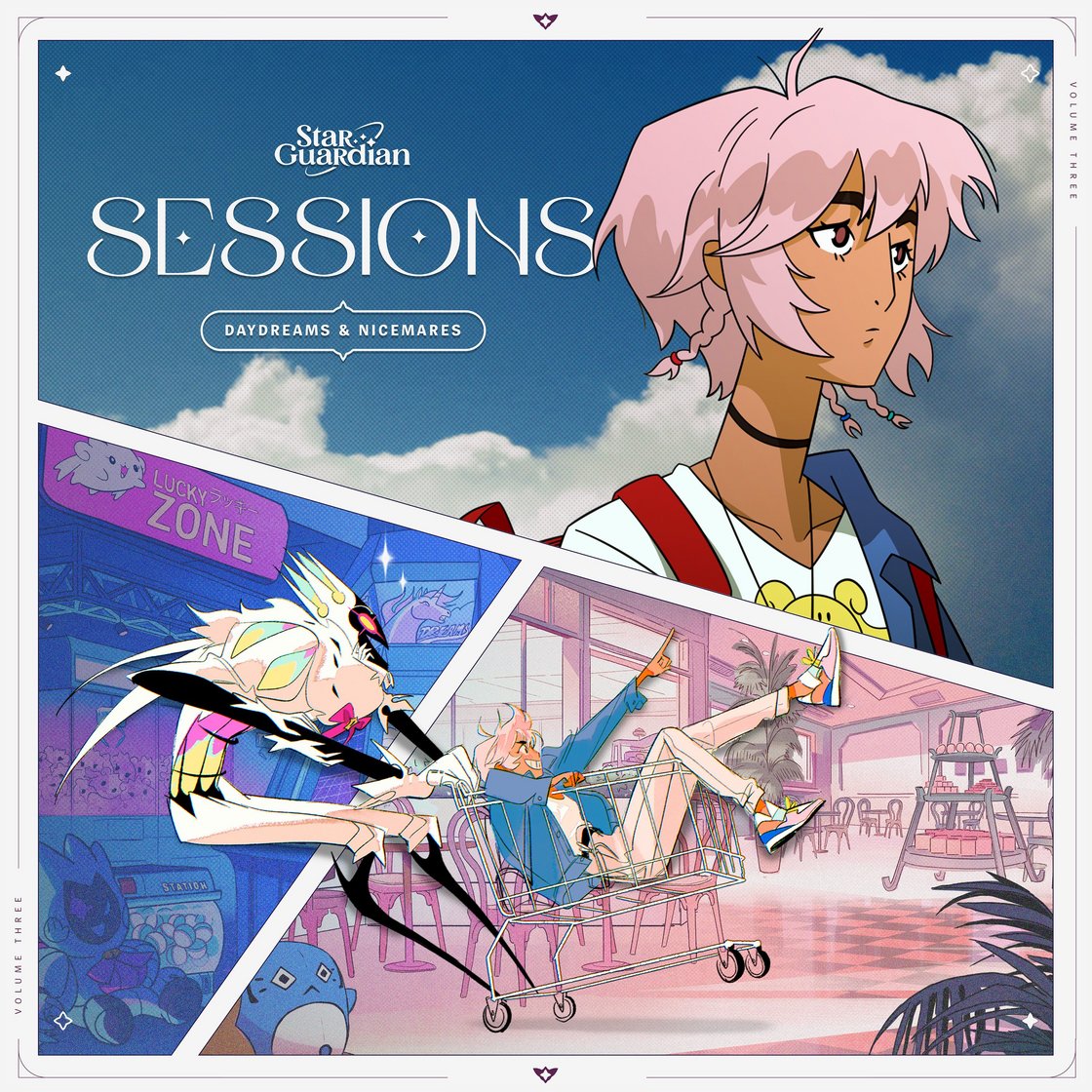 Riot Games Music has also been hard at work creating a creator-safe suite of music, specially themed after Star Guardian. Sessions: Star Guardian Taliyah explores a moment in time between Taliyah and Fiddlesticks through a musical journey that chronicles their larger-than-life interactions and mischief.
Designed to be entirely free-to-use for creators, this is the third Sessions album and features dance and electronic music that also plays in the glitch pop, future funk, and kawaii bass spaces. A wide cast of talented artists contributed to this album including 3D Blast, bear bear & friends, chromonicci, ev.exi, FIBRE, Hyleo, leon chang, Mélonade, Mere Notilde, Rob Robinson, Semoothe, Snail's House, Strawberry Station, suteki, Synthion, and TANUKI. The album is now available on all streaming platforms.
We're also activating the Riot Games Social Impact Fund during Star Guardian to support nonprofits around the world! Players will be able to support charities in multiple ways throughout the event:
In League of Legends, from July 14 to August 15, Riot will contribute 20% of proceeds from the Star Guardian Event Pass to the Riot Games Social Impact Fund in partnership with ImpactAssets.
From July 28 to August 29, Riot will contribute 100% of proceeds from Star Guardian Taliyah and all related bundle sales to the Riot Games Social Impact Fund. Here's everything that qualifies:
Star Guardian Taliyah (skin only)

Star Guardian Taliyah Border Set

Star Guardian Taliyah Chroma Bundle

Star Guardian Taliyah All-Star Bundle
In Wild Rift, for every 10 chaos monsters defeated by players between July 14 and August 11 in the in-client narrative experience, Riot Games will contribute $1 to the Riot Games Social Impact Fund, up to $2M!
Transform into a Star Guardian
Celebrate your fandom and love of everything Star Guardian with official Riot Games Merchandise plushies, apparel, jewelry, and more. From familiar Star Guardian faces to new, we'll be introducing merch from all corners of the cosmos and every Star Guardian team to date. Enjoy Riot-designed products to partner goods from companies like Good Smile Company and Secretlab.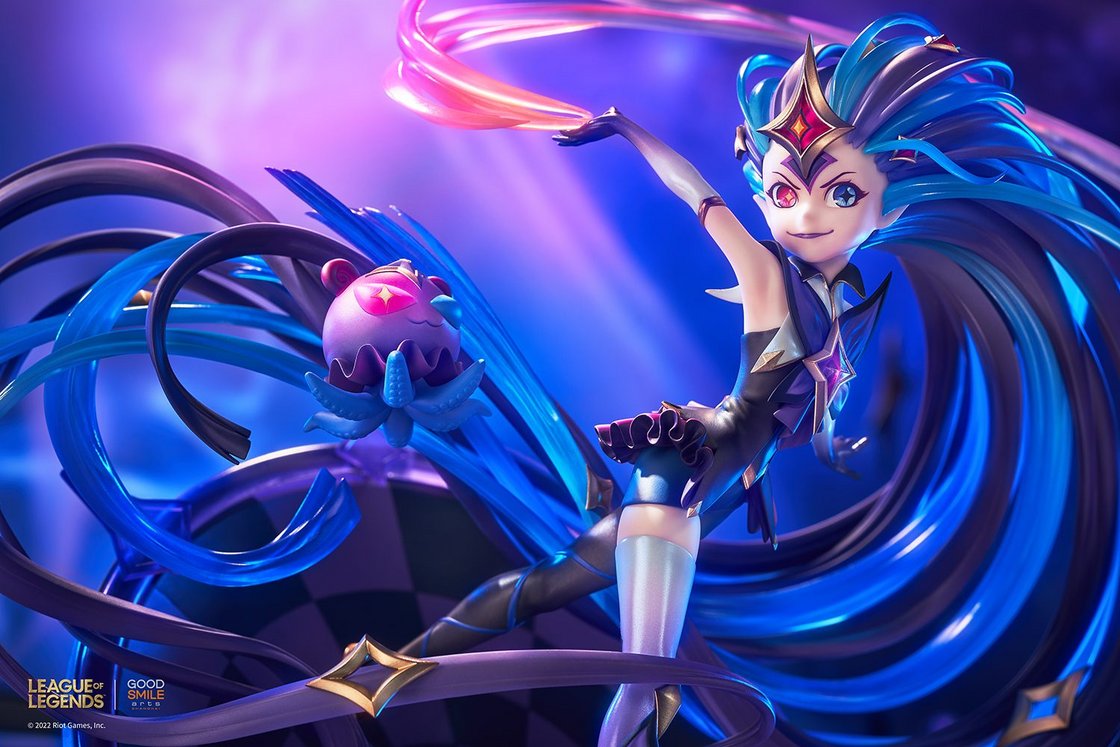 Over the years, player support of Star Guardian has always shown through. We're super excited to be back in this world again this year and we can't wait to see you all play through these new adventures. Star Guardian, and the Magical Girl genre, represents important lessons that everyone can take to heart. We've got tons of things planned across the course of this event so be sure to check out starguardian.com and all our social accounts so you never miss a thing. Saving the universe is stressful work, but someone has to do it.