From across the globe, those with awakened souls are granted an invitation to fight in the Tournament of Souls! It sits as king above all entertainment, a televised spectacle with no equal! Fighters face off in 1v1 battles in the ring until only one remains to receive their prize: their soul's deepest desire!
These fighters' souls awaken by trials fought on battlefields or in the very trenches of the mind. Each fighter is granted unique abilities reflective of their nature and the power to conjure forth the very essence of their spirit. Some hone their strength and temper it with training, while others use it only as a weapon to destroy. They are... SOUL FIGHTERS!
This guide is the first of a two-part series. Keep an eye out for the Soul Fighter Cosplay Guide: Round 2!
The Soul Fighter Fits
The Soul Fighter universe is populated by a diverse set of warriors who garb themselves in distinct gear to better highlight their unique fighting personas. These fighters are often ripped and leave their muscles on display. Costumes feature geometric cuts, using clean, bold fabrics accented with simple trims. Metal detailing is featured throughout, but most often on zippers or leather belts. These belts often feature a unique, oversized buckle fashioned as a symbol that represents the personality of the fighter wearing it. Most importantly, each fighter manifests their soul as a unique ability or weapon. This so-called "soul power" is depicted as being composed of the passionate, burning flames of the person's spirit, which are shaped into vibrant, multicolored forms that express the innermost identity of the soul fighter. Soul flames consist of a bright core color; a second main-body color, and a dark accent color dancing along the surface of the fighter's manifested weapon or ability.
If you look like an anime dream with a fighting game sheen stepping right off the screen? Congratulations, you've succeeded!
---
Samira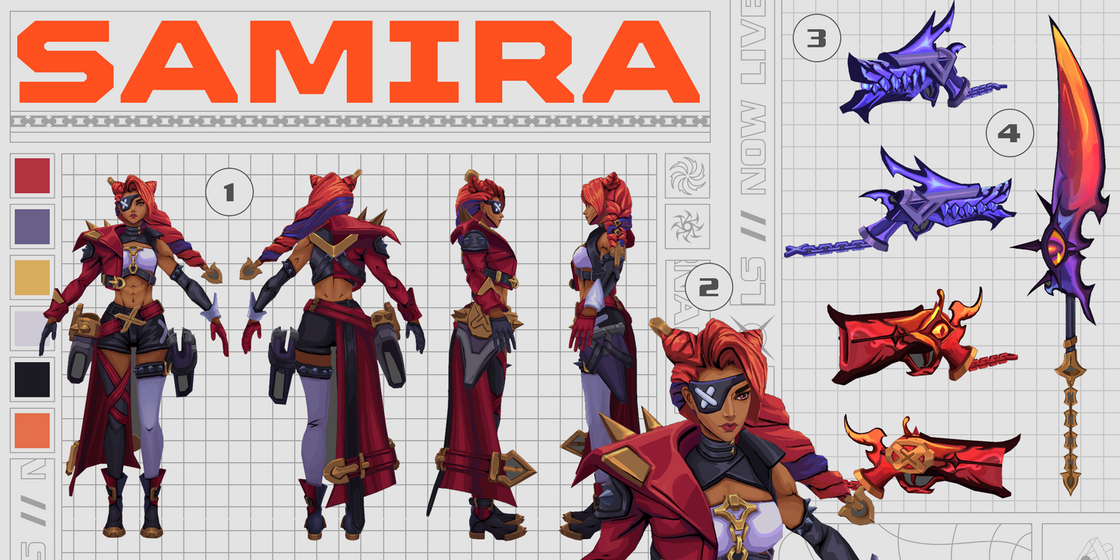 CHARACTER INFORMATION
A renowned bounty hunter who can't sit still cause she's ALWAYS on the hunt for her next thrill! This weapons master can use every dangerous tool in (and out!) of her arsenal to fight with STYLE in the Tournament of Souls! Our gracious host better sleep with one eye open, because rumor has it this queen wants to collect the crown! Make way for… SAMIRA!
OUTFIT INFORMATION
Samira has a popping red jacket with a visually interesting lower half design. You can see this in her long coattail and gun holsters which have exaggerated shapes with numerous belts and buckles. Overall the design of Samira's outfit is asymmetrical with differing straps on each leg in front of her long coattail. While Soul Fighter Samira's jacket is a bright red, her outfit also mixes some other colors throughout. Black and white are the main colors outside of her jacket, but there is also an electric blue streak in Samira's braid. It matches her other guns and blends with the bright red on her blade. Finally, there's chain detailing that accents her outfit throughout from her hair through the tail of her jacket.
DESIGN NOTES
If Viego is the antagonist of this event, then Samira is the protagonist. Making sure we created contrast between these two was a large goal when we were designing both of their outfits. To help meet those goals and emphasize this, we made Samira's jacket a popping red. Since Samira is the queen of masterfully chaining combos together on the Rift, we knew she could pull off a combination of colors in her Soul Fighter outfit as well. The chain detailing throughout her look is used to communicate that the god eye's power is under Samira's control and bound to her with chains. It also is a nice way to exaggerate her movement and add interesting motion for her flashy moves in the ring.
---
Sett

CHARACTER INFORMATION
This fighter is here to prove that fists CAN be the answer to everything! That is, assuming the question of everything is: "How does one person win the most local tourneys in recorded history?" And he's not just doing it to look good—though that is a nice bonus—he's rising up the ranks to soul-fightin' legend to make his momma proud. It's Sssssett!
OUTFIT INFORMATION
Sett's outfit is overall loose and its main color is a navy blue with hints of a bright teal throughout. His pants are inspired by a Gi, and he wraps his feet with white bandaging. Under his gauntlets, he also wraps his hands with the same white bandaging. While most of the fabric he wears is light and airy, he also sports brown leather belts on the legs of his pants, chest, and shoulders. There are also small golden crowns that detail his outfit.
DESIGN NOTES
Since Sett is all about using his fists, when designing his outfit for Soul Fighter, it was important to create a design that would offer a lot of maneuverability (much more conducive to punching opponents in the face). We also include the wrapping under his gauntlets and his feet to provide him more stability which doubles as cushioning while he's dealing blows to anyone unlucky enough to come across him. And, of course, since he's the boss, we had to add some small golden crown details to show off how Sett really thinks about himself.
---
Pyke

CHARACTER INFORMATION
This un-alived assailer has unfinished business: duking it out in the ring! Now, I can't say if returning from the dead proves the existence of the "Lands Beyond." (I don't get paid enough to PONDER MY EXISTENCE!) But if rumors are true, and this fighter's friend brought him back from the brink... then we're in for a HELL of a fight! Here's Pyke!
OUTFIT INFORMATION
Pyke's go-to is his purplish navy jacket that he wears around his shoulders like a cape. It's accented all around by oversized gold zippers and large black belt shoulder pads. On the back of his jacket there are also three exaggeratedly large zipper pull tabs, while underneath his jacket is a thick white cloth collar. His face mask is made up of several purple belts looping around the lower area of his face and neck. He wears a large black leather belt around his waist that is constructed of three parallel belts held down by an oversized gold buckle. His pants consist of purplish navy flared chaps over blue pants. As far as footwear goes, Pyke wears gold-toed black leather boots.
DESIGN NOTES
What kind of Soul Fighter would he be without a weapon though? His dagger is made up of soul energy, with the inner part colored cyan blue and the outside lining being a hot pink. This soul energy can also be seen in Pyke's chest and eye scar.
---
Naafiri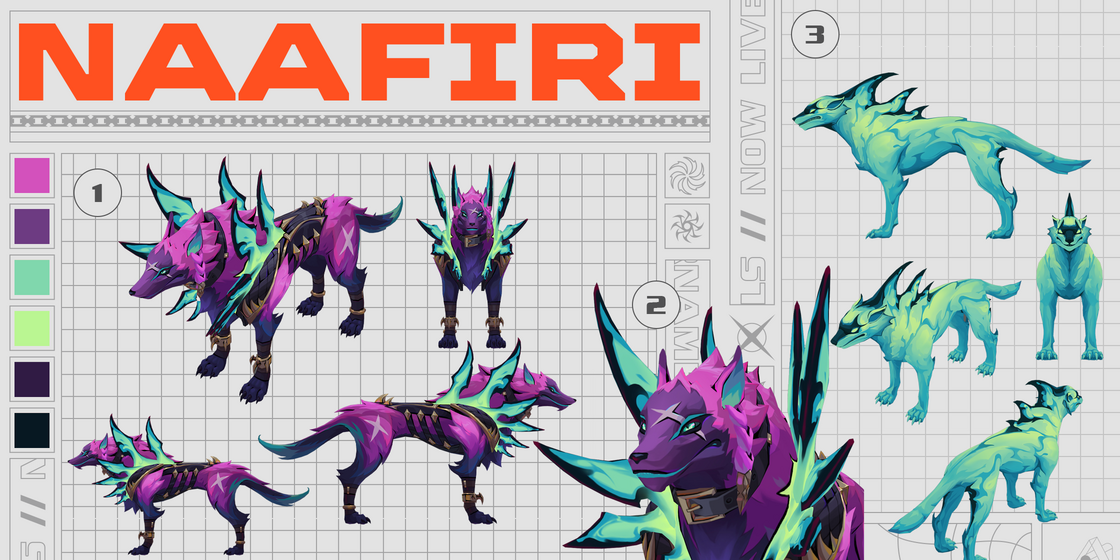 CHARACTER INFORMATION
Failed experiment! DEMA DOG! The Four-legged Fighter! This... creature... has almost as many titles as it does separate entities it can summon! Does it want revenge on its former masters? To take over the world? I don't know! I'm no dog mind reader! It's... Naafiri!
OUTFIT INFORMATION
Naafiri is an assassin, so we wanted to give her a dark leather vest and belt. We also added themed belt buckles to both her jaw and maw, as well as some gold around her paws.
DESIGN NOTES
Soul Fighter was done in an anime fighting game style theme and the character roster is made up of mostly humanoids. It got tricky to design a quadruped like Naafiri to match the rest of her two-legged ensemble which caused a few bumps in designing her outfit. Namely how to get Naafiri to fit into an anime-heavy theme without feeling out of place. We looked up tons of examples of pet owners cosplaying their pets into anime characters as reference points (definitely work, yup). Whether it's a dog, cat, or even a duck, these were helpful in identifying what type of outfit Naafiri should have as opposed to forcing human clothes on a dog or a quadruped. So thank you to all the pet cosplayers out there! And, also, please don't attach lethal objects to your pets for this cosplay… some cardboard would do just fine here.
---
Lux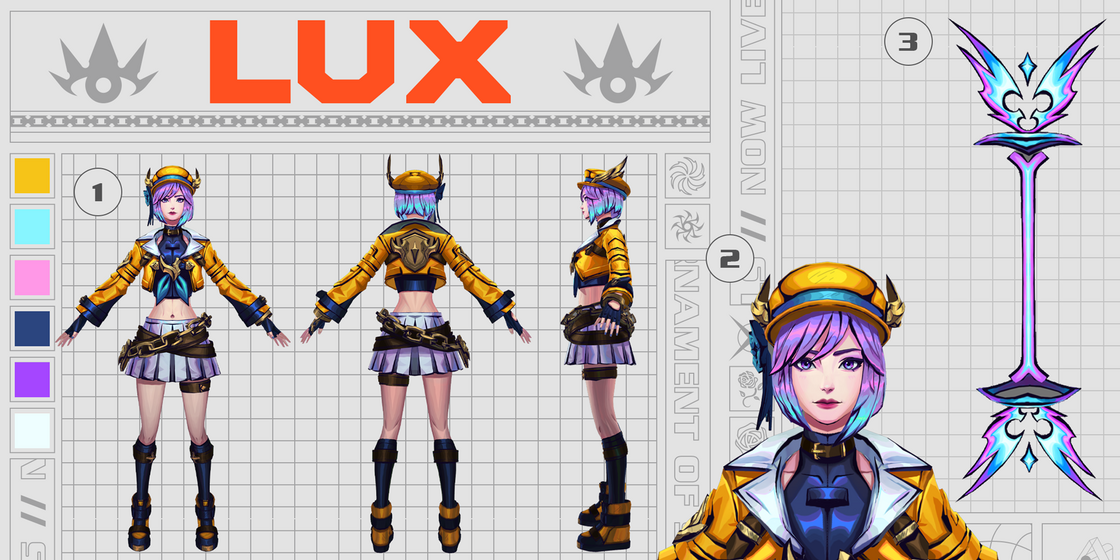 CHARACTER INFORMATION
She's on the run from her family and she figured the best place to hide would be… ON TV?! Seriously though folks, this lady has some trauma... and we all know the ring is *the* place to work that out! Now, if I was a betting man—and I am—I'd say she'd use that soul's desire to make her drama disappear. It's Lux!
OUTFIT INFORMATION
Soul Fighter Lux has three main colors for her design: warm yellow, light cyan, and bright white, alongside a few spots of dark blue fabrics. Her leather jacket has sharp features with an overlay of straps and gold elements like her bird brooch and the logo on her back featuring two birds facing a spark.
Her leather belts are a soft dark brown. Her hair is short, light, and youthful. It features a gradient between two light pastel colors: blue and pink. Her face is framed by the sharp triangular shape of a white color, pushing the fantasy of a sailor uniform within her outfit.
DESIGN NOTES
While her main colors are warm yellow, light cyan, and bright white, her soul power, which is inspired by the duality of her chain and wings of freedom, introduces some new colors with a fiery prismatic combination of colors between cyan, pink, and bright yellow. We also wanted to add an extra layer to her design on her neck, arms, waist, and legs, which is why she has some leather belts throughout her outfit. Another noticeable feature this time around for Lux is her round bubbly hat with two gold wings that come out of the sides, which should help keep her identity a secret on the big screen… right?
---
Nilah

CHARACTER INFORMATION
The last time we saw this champion, she was teaming up with other soul fighters to take down the Thousand-Eyed God—and rumor has it she KEPT one of the God's eyes! Put your hands together for the mysterious God Slayer, possessor of the absolute best smile we've ever seen, the Boundless Joy herself: Niiilah!!!
OUTFIT INFORMATION
Her fighting garb's main color is a deep purple with different shades of violet. She has parachute pants, which are a looser fit. Nilah's eyes are also covered and wrapped with a white cloth that has a symbol of an eye on each one. Her whip is a vibrant green, highlighted in violet, and has an eye at the base before it twists together. On her hip, she has her Urumi, which is the same color as her whip, and sits atop a gold chain that wraps around her waist.
DESIGN NOTES
Nilah is ready to Nurumi her competition into shape! Her main colors are more vivid purples which make her look pop, and help her stand out from her fellow competitors. Nilah's pants are also a looser fit, so that she can maneuver her duels better. Her eyes being covered by the cloth also highlight her beautiful smile even more! The cloth has an eye symbol on it, similar to her Urumi resembling an eye, which makes us wonder… are the rumors about this God Slayer true?
---
Draven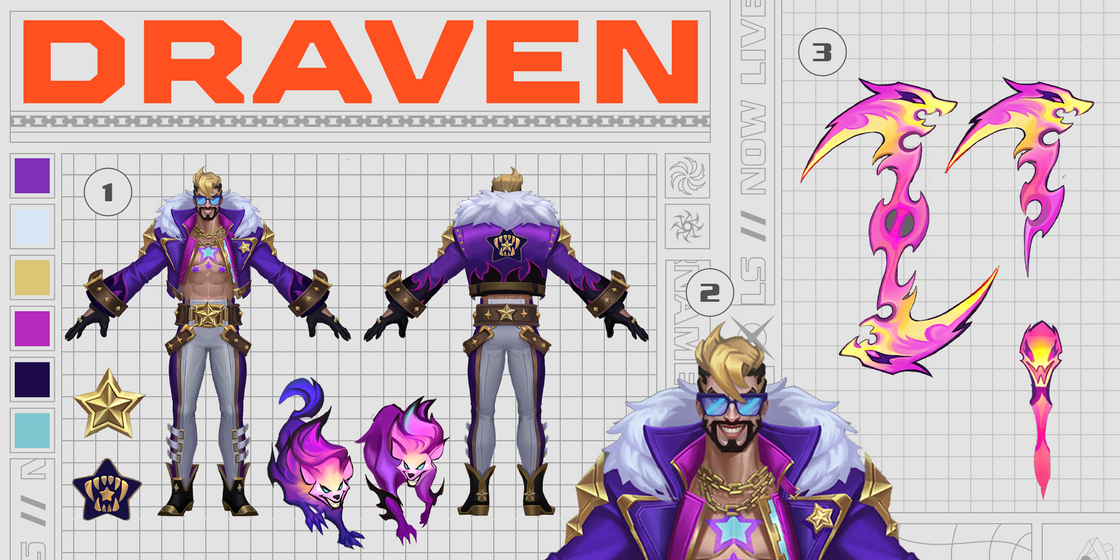 CHARACTER INFORMATION
The Tournament of Souls' golden boy, his over-the-top fights are only surpassed by his over-the-top personality. It's no wonder he's been the fan favorite to win it all since early on in the competition. He loooves attention, so make some noise for the Hysterical Hyena, the GLORIOUS EXECUTIONER HIMSELF: DRAAAVEN!!!
OUTFIT INFORMATION
The color scheme of Draven's outfit is mainly white and a deep purple, with pops of gold. His jacket features purple leather and has flame detailing at the back and on the cuffs, outlined in pink. White fur adorns the neck of his jacket and the front color features the same hot pink that was used to outline the flames. There is also gold detailing throughout his outfit, and gold stars on the cuffs and back of the jacket. His axes are flaming pink to match the flames on his jacket. Draven doesn't wear a shirt but instead opts to show off his six-pack and purple star tattoos on his chest that match his jacket.
DESIGN NOTES
This golden boy is ready to style on anyone who thinks they can step up. And, let's be real, you don't gain as many fans as Draven without some flash—which his look is full of! We incorporated lots of pops of gold throughout because he is the superstar of The Tournament of Souls and the superstar needs to stand out in the arena. Once Draven starts whirling his axes toward you, you'll also see he's got that dog in him.