To our Players, Friends, & Fans,
It's been six months since I joined Riot and it's been a whirlwind to say the least. Joining a company in the midst of changing leadership, rapid growth, and organizational shifts is never easy. And it's even harder when it happens on a public stage.
When I was exploring the prospect of joining Riot all those months ago, my friends and colleagues questioned why I would even take the interview. Riot's lawsuits were public by that time, and everything seemed to signal troubled waters. But I'm never one to back away from a challenge, so I took the interview anyway, if only out of curiosity. Having read the infamous Kotaku article, I knew this was a moment that could either catalyze or paralyze, and I was intrigued to know which path Riot would take.
The vetting process took an intense four months. I had many candid conversations with Riot's senior executives, leaving nothing on the table, as we both assessed whether this was the right place for me and if I was the right person for them. It didn't take long for me to realize the integrity of the company I was dealing with. Throughout this time, I came to have a deeper appreciation of their motivations, their vision, and their genuine desire to make Riot a place that they, and all Rioters, could be proud of. In so many words, I saw the heart of Riot, and I was hooked. Clearly a little weathered by the months that preceded my joining, I knew that Riot was ready for a transformation. I was ready, and eager, to help lead that charge.
Shortly after joining Riot, I stood at my first town hall and essentially asked Rioters to give me 90 days. I needed time to talk with Rioters one-on-one and to review our processes and systems. My goal was to not only create a true "North Star" or vision that would provide an anchor for our diversity and inclusion work, but I also wanted to have a solid foundation for a multi-year roadmap with tangible actions, accountability, and measures to monitor our progress.
Listening to the stories and insights of Rioters, it was clear that the last six months had taken their toll. Rioters were hurt, conversations were sometimes divisive, and tensions were high. But even in the midst of all of this, Rioters never lost their love for this company and they wanted (demanded) us to be better. It was with that sentiment in mind, and with the voices of actual Rioters, that we created our forward-looking vision and plan for diversity and inclusion, which we shared with Rioters last week.
A Year of Real, Tangible Progress
Wednesday marks a year since the original Kotaku report that helped bring Rioters together with the shared goal to evolve our culture. We have made some significant strides over the past year. I want to take a moment to acknowledge the work and dedication of all of our teams. Progress on D&I is about driving meaningful change, not "checking boxes." The passion and commitment from Rioters over the past year has been phenomenal. All the work that's been done has been impressive and will serve as a strong foundation for us to continue to build on.
So what have we done?
We brought in experts
Frances Frei, a renowned expert in D&I and culture, joined Riot in an advisory capacity to lead our efforts to elevate our culture.

Youngme Moon joined the Riot Board of Directors and created a committee solely for holding Riot accountable on D&I.
We expanded our leadership team
Led by our CEO Nicolo Laurent, the executive leadership team includes the leaders of our most important strategic goals. 28% of the team is female and 45% are minorities.

We have hired Emily Winkle as Chief People Officer. Both Emily and I are members of the executive leadership team.

We launched a diversity slate initiative to increase representation of women and under-represented minorities in the interviewing process at director level and above. The CPO or CDO interview all leadership candidates.

Women are leading key Riot initiatives including the Riot Platform Group, League of Legends, our Art Department, and some of our most exciting R&D projects.
We facilitated external partnerships to build our future workforce
Last week we held a graduation ceremony for our first Girls Who Code summer immersion program.

We joined Melinda Gates' Reboot Representation Coalition, whose goal is to double the number of women of color who graduate in computer science in the US by 2025.

We have expanded our reach by partnering with Hampton University and Anita Borg to increase representation in our intern and candidate pools (33% of 2019 intern class are women).
We infused D&I into our people processes and systems
We fine-tuned our compensation process and conducted a thorough pay equity analysis. We have and will continue to review our compensation processes regularly to ensure we maintain fairness. And in any areas where we need to make adjustments, we will.

Hired a Head of Total Rewards: Hollie Downs comes to us with over a dozen years of experience developing, implementing, and assessing successful compensation strategies and solutions.

We reviewed every aspect of our recruiting process (from how we post openings, to sourcing strategies, to hiring panels and offers) to ensure we have the opportunity to attract talent from different backgrounds and perspectives.

Implemented a process to review all job postings to ensure we have the most inclusive language possible to attract diverse applicant pools

Stood up a diversity recruiting function to amp up our recruitment efforts

Implemented mandatory interview training for all hiring managers and anyone interviewing candidates

Launched an internal job posting board to provide visibility and access to Rioters who want to grow and develop their careers

We listened to and partnered with Rioters to update our Code of Conduct and reinforce our commitment to ensuring a safe workplace for all Rioters. As a result we further clarified what we consider to be acceptable or unacceptable behaviors by updating our romantic relationships, creative content, and other policies.
​
We continue to evolve our culture
We updated our values: In 2018, we spoke with more than 1,700 rioters who told us that we needed values that reflected who we aspire to be. At the end of 2018, we shared with Rioters our new values that shape how we work and make impossible dreams come true for players all over the world. These values are embedded in our recruiting and performance management processes.

We expanded and accelerated training and education programs across all levels of Riot: 2,500 Rioters completed more than 12,000 hours of training to build awareness, capability, and ownership to foster a safe and inclusive workplace.

We created platforms to connect, leverage, and engage Rioters. We launched Rioter Identity Groups (RIGs - Riot's version of ERGs). These groups will not only foster a sense of belonging and community among Rioters, they will also provide us with perspectives and insights on challenges and opportunities for diversity and inclusion:

Rad-Genders (gender and non-binary)

Riot Noir (Black and African-American)

Rainbow Rioters (LGBTQ+)

Veterans

Filipinos at Riot
​
We achieved our 30 / 60 / 90 day commitments
As I was creating my 90 day plan, Riot was about 90 days away from the one year mark where we promised players and Rioters we would make changes to our culture. It was also the time when Rioters announced their plans to walk out in response to company policies about arbitration. While we wouldn't commit to a change in that policy while in active litigation, there were other areas where we could accelerate our progress. Our 30/60/90 day commitments were a way to provide transparency into the work we have been doing and to publicly hold ourselves accountable to the promise we made last year.
When we first embarked on this phase of Riot's journey, it was the kind of proposal - in terms of timing and scale - that, if you proposed it at most companies, you'd be laughed out of the room. But when Emily Winkle (one of our partners in transformation and our Chief People Officer) and I proposed it to leadership, the questions weren't about how much it would cost or how realistic it was, the questions were about whether we could do it faster or go bigger.
Today I'm proud to announce that we've hit all of our 30 / 60 / 90 goals. And although the journey we're on isn't about checking boxes or highlighting our tactics, this work set the tone for the work to come in ensuring that all Rioters come to work everyday feeling valued, included, and able to do great work.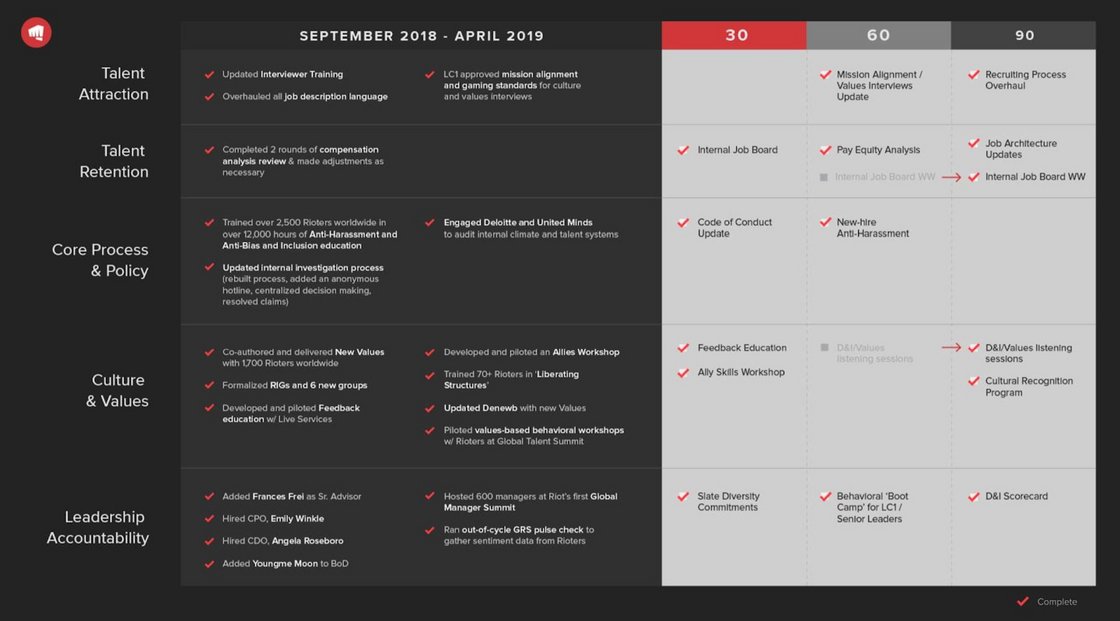 Moving forward...Together
Our "north star" is to be a workplace where diversity is our strength and Rioters are empowered, proud, and passionate about our players and each other. To achieve that vision, we have created a framework with 5 focal areas. These pillars enable us to create alignment on the work, what we measure, and how we drive accountability. So going forward, we'll be focused on these things: people, process, culture, ownership, and industry.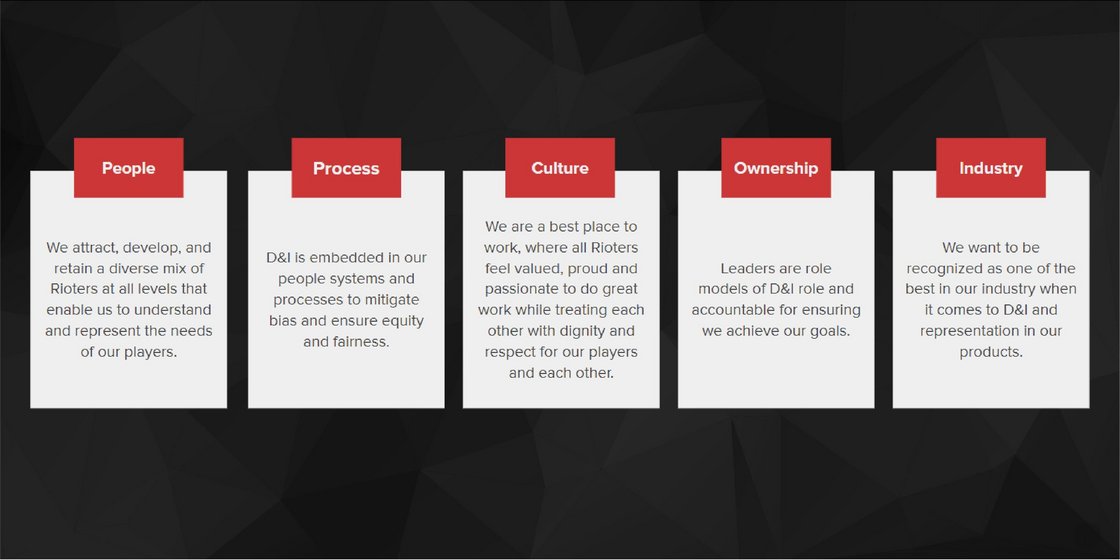 Our 2019 - 2020 - What to expect
Building on the strong foundation we set in 2019, here's just a sample of what we have in store:
Creating and implementing strategies to increase representation of women and under-represented minorities

Ensuring that diversity practices are embedded in all people processes

Leveraging our Rioter's council and RIGs to identify and make recommendations to address issues and opportunities for D&I

Driving behavioral shifts that embody our values to foster a great workplace for all Rioters

Putting actions and measures in place that hold leaders accountable for results

Building the capability and skill of our managers to lead diverse teams

Creating an external partnerships and advisory council to provide strategic advice
​
Closing thoughts
I recognize there will be questions about whether we've really changed. Here is what I know...change is never easy and this journey will not be perfect. We will keep listening, we will keep moving forward, and we will keep striving to be a company that current and future Rioters can be proud of. Everyday we will make a deliberate choice to be better than the day before.
I'll conclude by saying that there is no Riot without Rioters. We never would have achieved all that we have thus far without Rioters' faith in us and their belief in each other. No doubt we have work to do, but because of the spirit and determination of Rioters, my optimism is endless for what we can accomplish next. We look forward to keeping you updated, and if you want to know more, just drop me a line.
#togetherweareriot
Thanks for reading. Thanks for playing. And thanks for believing in us.
Sincerely,
Angela Roseboro
Chief Diversity Officer
Riot Games