Being a technologist at Riot means more than just programming systems and participating in code reviews. It means contributing to a wider group of self-motivated individuals who care deeply about the growth of the community as a whole. With regular Community of Practice meetups and Tech Talks, large-scale events like Tech Summit or the Tech Town Hall, and a weekly tech newsletter in the bathrooms, Riot Tech has something for everyone. The various clubs and events on campus make it easy for anyone in tech, from QA analysts to data scientists to software engineers, to connect across the company—and the globe.
Read on to learn about some of the ways Riot technologists engage with their communities.
Join a Community of Practice
For those who want to socialize and collaborate with other technologists, Communities of Practice (called CoPs) offer an opportunity to come together and knowledge-share about a specific product or strategy. This means Rioters distributed across the company who are focusing on various products can connect with others around a common interest. Technology-related CoPs, such as the Data CoP, the Gopher CoP, and the Web Guild have been sharpening Rioters' tech skills for years. CoP discussions happen over Slack channels, at in-person meetings, and at discipline-wide presentations called Tech Talks. Each CoP has its own ecosystem, with typical meetup schedules ranging from weekly to biweekly to monthly, depending on members' preferences.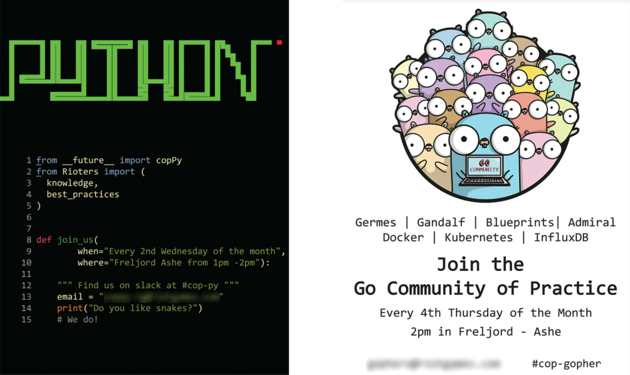 Technologists who participate in CoPs have the chance to cross-pollinate with other teams and meet other Rioters with shared interests. By enabling communication between subject matter experts from different parts of the company, CoP members are able to solve cross-cutting problems that affect the entire org. CoPs explore relevant cutting-edge tech, align the company on important RFCs, and generally contribute to tech product growth across Riot.
Attend a Tech Talk
Tech Talks bring CoPs to the grand stage or, more specifically, Nocturne theater. Anyone interested in sharing their work in presentation form can submit a talk and regale their fellow technologists while honing their public speaking skills. Rioters from around the company are invited to attend and learn about topics ranging from managing tech debt, to more technical content like operating Cloud Inquisitor. Speakers often benefit from the broader visibility and collaboration that a Tech Talk brings to their product, tools, and approach. After volunteering to deliver a tech talk, many speakers eventually seek other engagement opportunities such as external conferences.
Engage with Tech-wide events
At certain points in the Tech group's history, we've assembled as one giant team to celebrate and collaborate at our internal Tech Summit. Rioters from around the world gather in one place to learn about our global tech strategy and meet Rioters from teams they've never interacted with before. These events help encourage stronger connections with Riot Tech as a whole, as well as with other individuals who work in similar problem spaces. When a global gathering isn't realistic, we hold a smaller-scale Tech Town Hall to accomplish many of the goals of Tech Summit.
Some popular sessions include guest speakers, strategy AMAs, unconferences, lightning talks, and tech exhibits.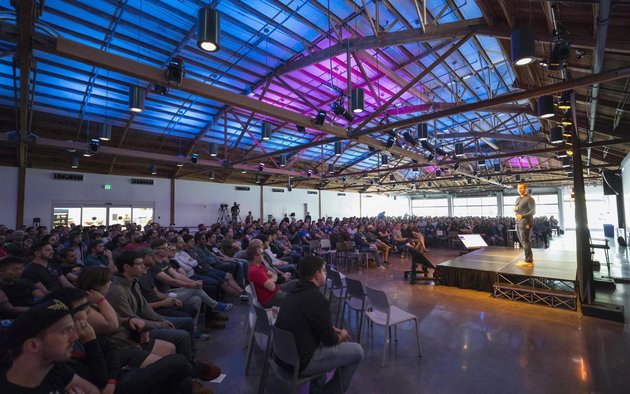 For questions that are better discussed in groups, the unconference allows attendees to self-organize and create their own conference track based on submitted topics.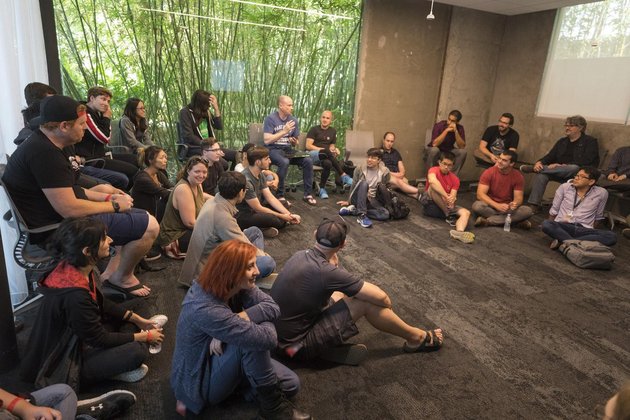 Those who want to address the entire organization can give lightning talks, which are five-minute (usually casual, and often impromptu) presentations enforced by both timer and gong.

Lightning talk speakers often promote a tool they want teams to use, address a cultural topic they find valuable, or share a fun side project.
Tech Summit and Tech Town Halls typically conclude with some kind of celebratory social, such as the Tech Exhibit of 2018, which showcased artifacts and stories from Riot Tech's beginnings.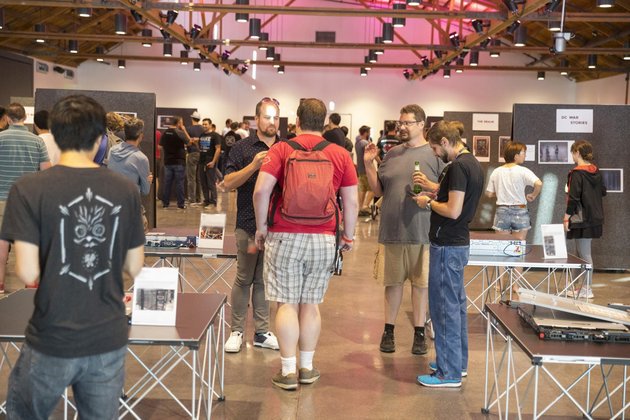 Tech stories in lavatories
The most accessible entry point to Riot Tech culture can be found in your local Riot restroom. This may seem like a surprising location to share important content, but our surveys indicate that nearly 100% of Rioters are familiar with and have used the "restroom" medium. The Tech Weekly reaches its captive audience wherever they work, from the main thoroughfare in Demacia to the far reaches of Ionia. Of course, we send an email with the weekly too.
This platform allows teams to share progress and updates with the entire Tech org, and give visibility on specific issues and proposed solutions. New hires in Tech will also find themselves being welcomed by fellow Rioters from the Tech Weekly readership.
Once a quarter, a special edition called the Paradigm features an in-depth look into a single team's project, and also includes a mini tech puzzle and a comic strip.
Find your community
By having access to such a wide variety of programs with different time requirements, technologists at Riot are free to pursue the topics that interest them the most in the ways that work best for them. But Rioters aren't just encouraged to engage with the internal tech community—we prioritize contributing back to the wider development community as well. From open source projects on the Riot Games Github and events like the API Challenge and Hackathon, to individuals who teach at universities and high schools, we consider continuous improvement to be one of our most important values.
The Riot Tech community has something for everyone. Bring your obsessions and you'll find a group of enthusiastic Rioters as passionate as you are. Whether you geek out about a particular programming language, love exploring new tech philosophies, or even just really want some pie, you'll find your community at Riot.