Pride is a global celebration. Around the world, Pride is celebrated throughout the year. June is still the most common month for Pride but July saw Pride parades across Germany, August will see Amsterdam and Prague celebrate, and in the Southern Hemisphere, Australia and New Zealand have huge events in February.
We know your identity isn't confined to a calendar and neither are the celebrations so while you're rocking the Pride icons, player cards, gun buddies, and more throughout the year, we've also got more Pride events to look forward to including content series, charity donations, and LGBTQ+ tournaments. With that being said, we also wanted to take a chance to look back on all the amazing events that happened in June.
Pride 2022 was Riot's biggest celebration of Pride ever. Rioters came together, participated in parades, put on insightful talks, created LGBTQ+ content, gave back to charity, and celebrated the rainbow of unique identities across Rioters and players. Plus we introduced a new story diving into the interlinked identities of everyone's favorite Bilgewater duo and an incendiary chemistry that isn't just from the gunpowder explosions.
Here's everything we did, and are continuing to do, to celebrate Pride!
Pride In-Game
All of our games saw Rainbows take over in June as League of Legends, VALORANT, Teamfight Tactics, Wild Rift, and Legends of Runeterra all had their own unique Pride activations. Between the Pride cosmetics returning from 2021 and those added in 2022, players were able to acquire or equip 58 different items to celebrate and support the LGBTQ+ community! We're super excited to see millions of players engage with the campaign across every game. In VALORANT, for example, nearly half of all active players acquired the Pride Gun Buddy and/or the Pride Player Cards. Your overall engagement with the campaign inspires us to do better each year.
The Boys and Bombolini Shares the Story of Graves and Twisted Fate
It has everything a good Bilgewater partnership needs. Gunpowder, explosions, a former associate who happens to be half hammer-head shark, and some tender moments between two hardened mercenaries and business partners. If you haven't read it yet, check out the full story here.
And, by the way, it's worth revisiting "Double-Double Cross" released in 2020 if you want to see more of Bilgewater's best mercenary duo. We've even recently dubbed it into a few new languages including Portuguese!
Pride Creator Art Commissions
As a part of our #Pride celebration, we asked amazing community artists to share their take on how Runeterra would celebrate. And the community came through in a big, big way:
"There's a certain magic that community artists bring to our world," said Chesney Lattuga, a Marketing Creative Director who worked on this project. "They breathe a different kind of life into our champions, and I'm always in awe of the passionate bonds they form. I love working with fan artists because you can see every drop of love that goes into the finished piece of work, especially if it revolves around bringing headcanons to life!"
A huge thanks to Yeorinart, SuperRisu, Bekkomi, Sunatixd, OriaArts, and Luzdanaee for bringing these moments to life in your own unique styles!
LA Pride Parade
From the characters to the Rioters who bring them to life, this Pride was a celebration both in-game and out. The Los Angeles Pride Parade has become an annual tradition for Rioters and this year Rioters donned matching Corgi shirts to show their pride in the streets of LA.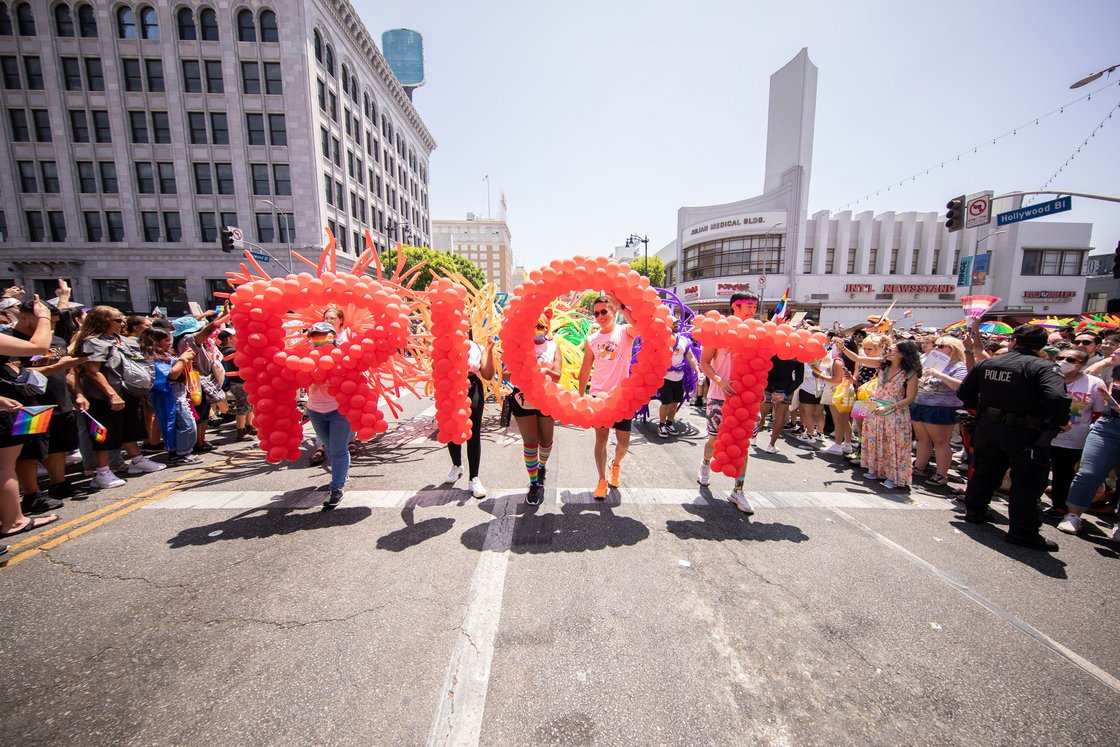 Hong Kong and Singapore Office Pop-ups
Rioters in Hong Kong and Singapore came together to celebrate Pride as well. The meeting rooms in the offices were Pride-ified, the corgi shirts naturally made an appearance, and plenty of delicious food was enjoyed.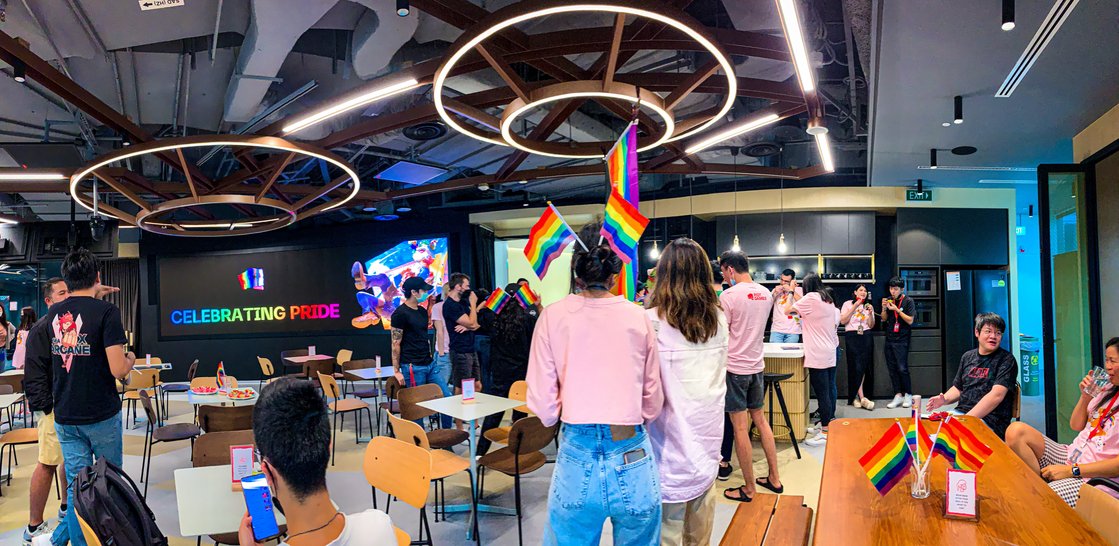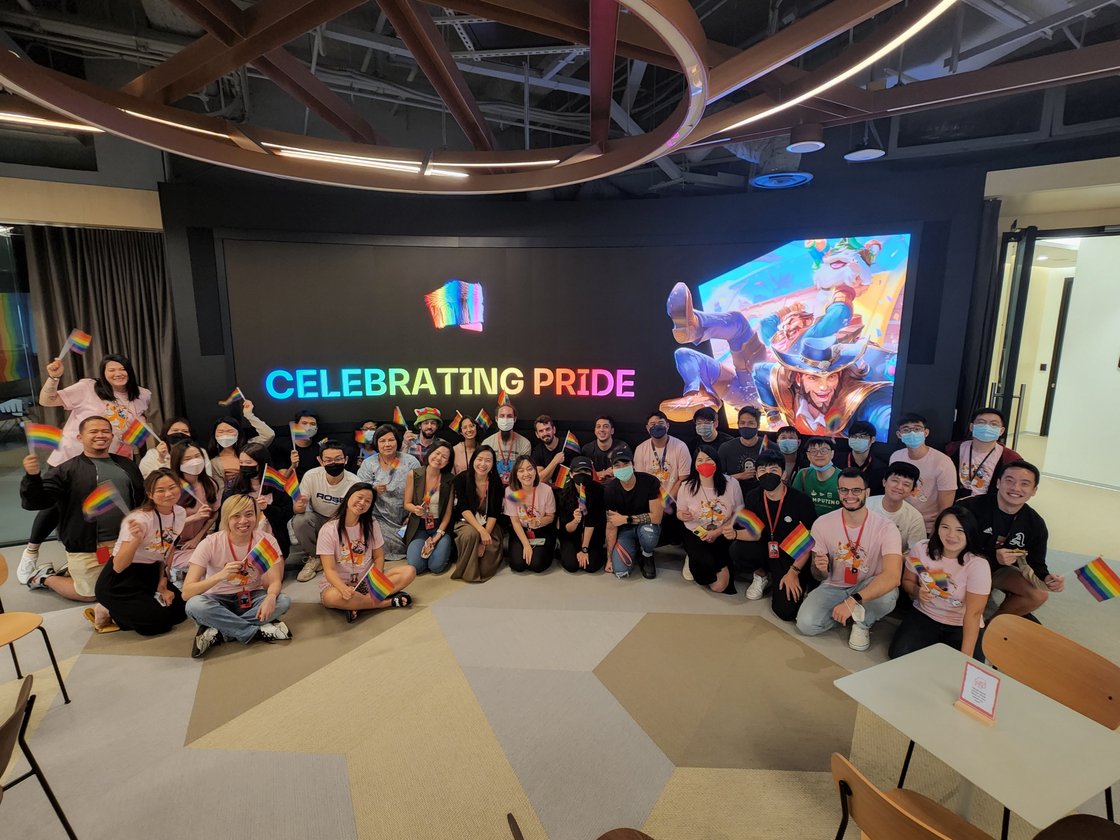 LGBTQ+ ERGs From Around the Industry Come to Riot
Employee Resource Groups or ERGs are groups of employees who share common identities or life experiences. At Riot, we call them RIGs or Rioter Inclusion Groups. At this event we invited ERGs from all around the entertainment, gaming, and tech industries for an opportunity to come together on the Riot campus, share accomplishments, and build a community. To our colleagues at Netflix, NaughtyDog, Square-Enix, Meta, Google, Epson, EA, and AMPAS, thank you for coming and we hope to meet up again soon!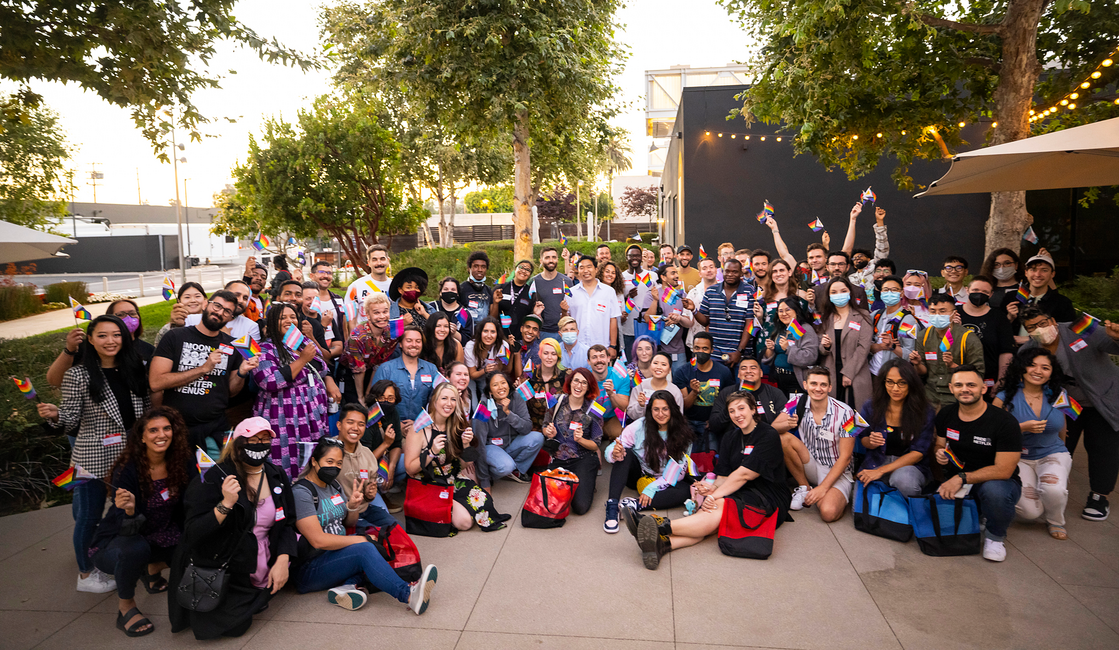 LCS Pride Tailgate Event
With the Summer Split starting up, esports events from regional leagues around the world all took on a Pride theme. For the LCS a tailgate was held before the matches kicking off the new split in the best possible way.
Regional Esports Leagues Celebrate Pride on Broadcast
As regional leagues kicked off their summer splits after MSI, many teams and leagues did their own Pride activations. After the LCS tailgate, the broadcast shared an important message from Biofrost about gaming culture and why it's important we do better.
In Europe, the broadcast was decorated with a rainbow gradient behind the desk.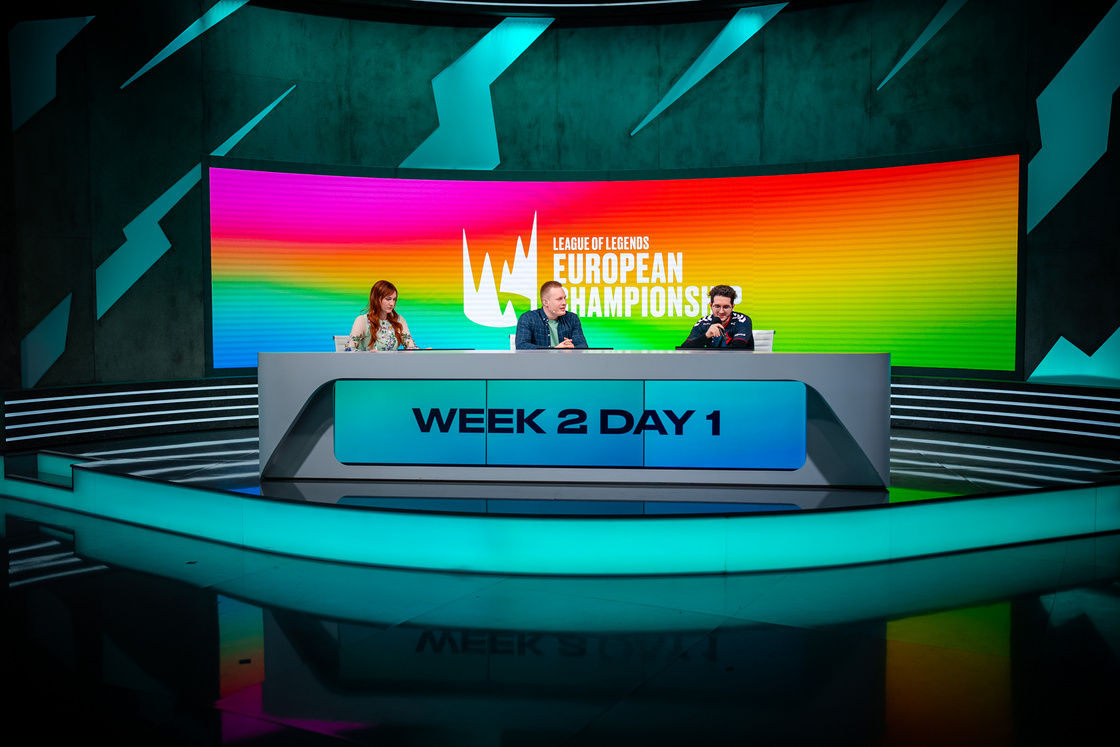 And in Brazil, the rainbow stretched around the studio as the entire arena lit up in an explosion of colors!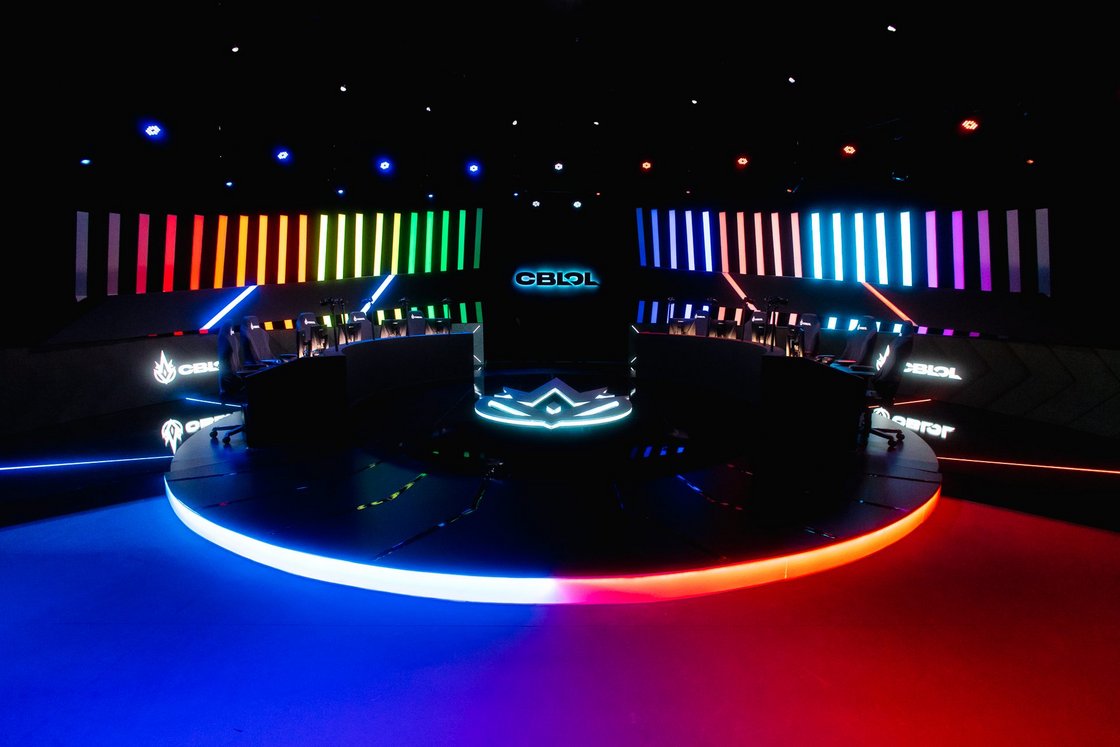 Desafio Pride Tournaments
The team in Brazil went a step further and organized a series of LGBTQ+ tournaments. Featuring players from LGBTQ+ communities, the first tournament featured League of Legends. In the coming months, VALORANT and Wild Rift tournaments will also take place giving a variety of LGBTQ+ gamers a chance to compete.
In addition, Brazil supports local tournaments. Diverse tournaments are always encouraged and receive extra support through prizes and promotions. In June, the team worked with organizers in the Brazilian esports community to create more Pride-themed tournaments which you can see below.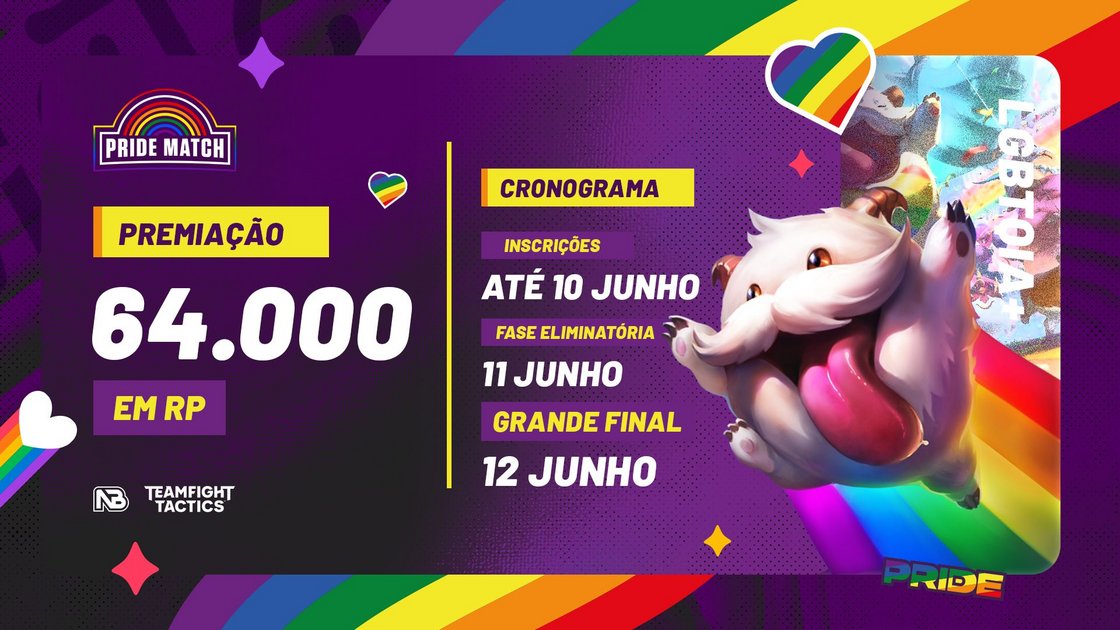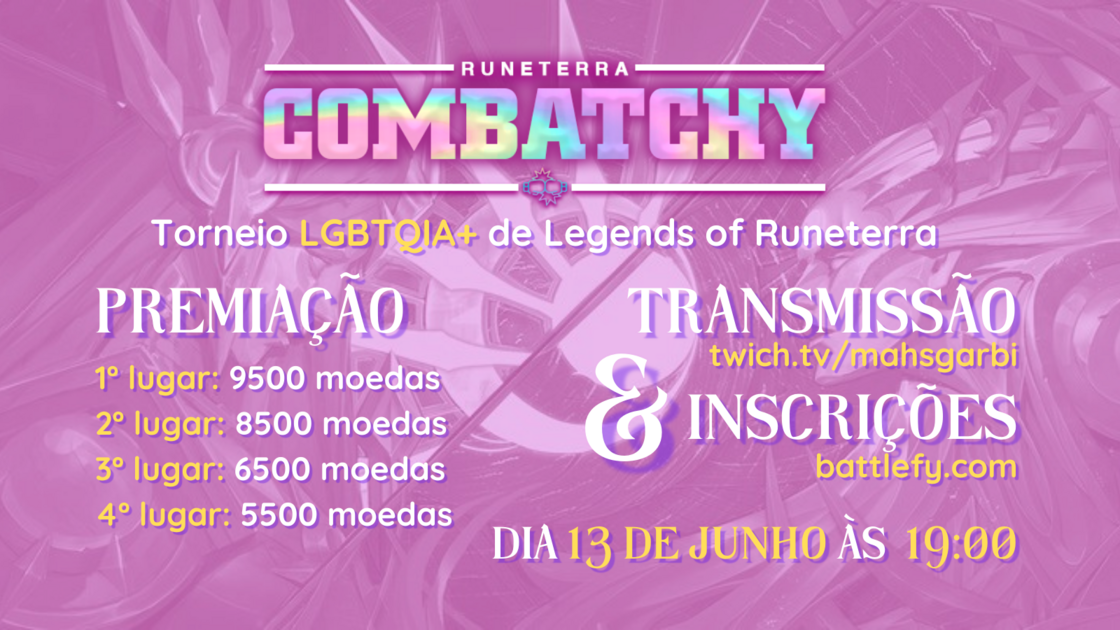 C9 White's Annie Talks VALORANT
VALORANT Champion Tour's Game Changers supplements the VALORANT competitive circuit by creating opportunities for women and other marginalized genders to compete in VALORANT esports. Over the course of Game Changers, Cloud9 White has been a dominant force winning all five of the major Game Changers events. Annie, who just recently made the switch from pro play to streaming, helped C9 White win four straight Game Changers events before taking her talents to the world of streaming. In this video, she talks about her experience playing Game Changers and why it's important to have these types of events.
@playvalorant

Be a VALORANT pro with PRIDE. @Annie_Dro shares her experience as a Twitch Ambassador, professional player for C9 White, and fulltime internet clown (her words, we swear).

♬ original sound - VALORANT
Meet Runeterra's Inclusive Heroes: App Store Story
Leona and Diana's relationship is intertwined in the stars. Before Leona became the Aspect of the Sun and Diana the Aspect of the Moon, the two were in love before fate intervened. You can see Leona and Diana's stories, gameplay, and voice lines featured in this writeup.
EMEA Virtual March for Pride
Rioters in Europe are holding a Virtual March for Pride from late June through August. The second year we've held the event, the Virtual March for Pride encourages Rioters to take part in activities focused on physical, mental and social health. When they do, they earn points which go to Pride swag and charity donations. This year, ILGA Europe, an independent NGO focused on advocating for equality and strengthening the LGBTQ+ movement across Europe and Central Asia, is the official charity partner!
Karma 2X donation matching for Trevor Project, GLAAD, and It Gets Better Project
Throughout the year, Rioters are encouraged to donate to causes they care about with Riot matching their donation. During Pride, we opened up 2X matching to LGBTQ+ charities Trevor Project, GLAAD, and It Gets Better Project.
Rainbow Rioters Find Their Lane
Rainbow Rioters, our RIG of LGBTQ+ employees and allies, is filled with people who are pushing Riot forward every day. This content series will continue around the year telling five of their stories focusing on how their identities evolved alongside their careers, what building an inclusive company culture means, and how they came to be Rioters. The first story features EMEA diversity and inclusion advisor Patrick Ryan on his journey of social change, creating pride networks in finance, and his role building RIGs at Riot.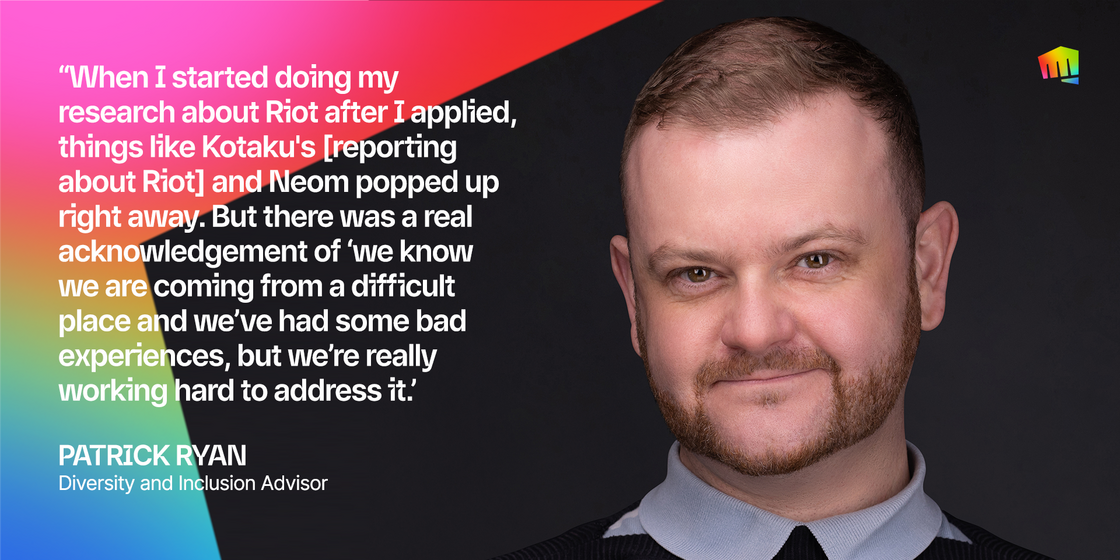 Teamfight Tactics Pride Developer Spotlight
The team that creates TFT is filled with diverse Rioters who have been making their mark on our games for years. This Pride, the TFT social team spotlighted four LGBTQ+ Rioters.
This month, we have the honor of featuring and celebrating a few of our LGBTQIA+ community members from the Teamfight Tactics team, starting with Alice! 🖥️ Alice has been with us from the start, and we are so grateful for her time spent making TFT great. pic.twitter.com/ULvOv2xPZv

— Teamfight Tactics (@TFT) June 2, 2022
Say hello to Ken! When he's not lending his talents to us at TFT, you might catch him playing a round of Valorant or two. (But we're not worried, VAL doesn't have Choncc). 😌 pic.twitter.com/0vnjsEiSad

— Teamfight Tactics (@TFT) June 16, 2022
Rae comes to us directly from a flurry of flower petals in her magical girl transformation sequence! This game producer said she's working on being kinder to herself, which is a great sentiment for Pride month. 🤗 pic.twitter.com/X1sXxoieef

— Teamfight Tactics (@TFT) June 23, 2022
Our last dev superstar of this year's Pride month is Jake! If you've enjoyed any of the in-game pride content this month, we have Jake (and his team, of course) to thank. 🙌 pic.twitter.com/GjHFLrrJID

— Teamfight Tactics (@TFT) June 30, 2022
Pride Movie Night: Tangerine
In collaboration with Rainbow Rioters, LAX Events kicked off Pride Month with a special screening of the critically acclaimed 2015 film, Tangerine! A slice-of-life dark comedy, Tangerine follows transgender protagonists Sin-Dee Rella and Alexandra (portrayed by Kitana "Kiki" Rodriguez and Mya Taylor, respectively) as they traverse the streets of Los Angeles in search of Sin-Dee's boyfriend and his new lover.
Juneteenth Wellness for the People
In acknowledgment of the intersections of identities, Wellness for the People held a learning session for Black and LGBTQ+ Rioters & their allies centering and celebrating the intersections of Blackness and Queerness. Participants came together to deepen their understanding of this intersection through movement, education, and meditation.
EMEA's Women@Riot Allyship Panel
Rioters on the Europe, Middle East, and Africa (EMEA) team held a panel on allyship. Featuring Rioters who work out of Berlin, Dubai, and Los Angeles, the panel discussed the meaning of allyship, why allyship must be intersectional, and how to be an active ally in the workplace. As part of this event, the EMEA team also created resources to help Rioters be better allies.
APAC LGBTQ+ Inclusion in the Workplace
Our team in Asia-Pacific (APAC) partnered with Out & Equal, a LGBTQ+ workplace advocacy organization, for a 90-minute workshop for managers and the People Team to learn about the best ways to support LGBTQ+ Rioters in the workplace.
Pride Campfire
Every other Thursday, we hold an internal discussion called Campfire. For Pride, we discussed all the amazing events covered in this article, shouted out the people who made them a reality, and took a look at D&I going forward. We're excited to be telling diverse stories, creating diverse characters, and incorporating D&I into our business in a bunch of impactful ways. There's always more work to be done but we're excited to celebrate diversity in all its forms all year-round.