Throughout Nicole Redd-McIntosh's life, food has always been on her mind. Before she graduated from Johnson & Wales University with a Bachelor's degree in Baking and Pastry Arts, before she became a head baker at Whole Foods and SusieCakes, and before she came on as the Executive Pastry Chef at Riot Games, Nicole was keeping track of every meal she ate while growing up in Los Angeles.
"My Mom would get upset because I would count how many meals we had," Nicole said. "I would say 'we didn't have lunch,' and she would say 'we ate a late breakfast' and I said 'that's not lunch, that doesn't count.' I've always been a big foodie and my family loves making sweets so it was an easy thing for me to want to become a pastry chef."
Nicole has worked at ISS Guckenheimer, the contractor that runs NOMs, Riot's on-campus restaurant, and the rest of our on-campus food service, for four years now. Ask any Rioter and they will tell you, NOMs, and their vast array of delicious (and free) food is always a highlight of any trip to campus. Nicole and her team's pastries are always a centerpiece of the NOMs' experience.
"When I first got to Riot, I had no idea what Riot Games was," Nicole said. "When they told me, I was like 'that's cool, I want to be one of the cool kids who works at a video game company.' Now whenever I tell people what I do and where I work, they always say 'what do you mean they have an executive pastry chef?'"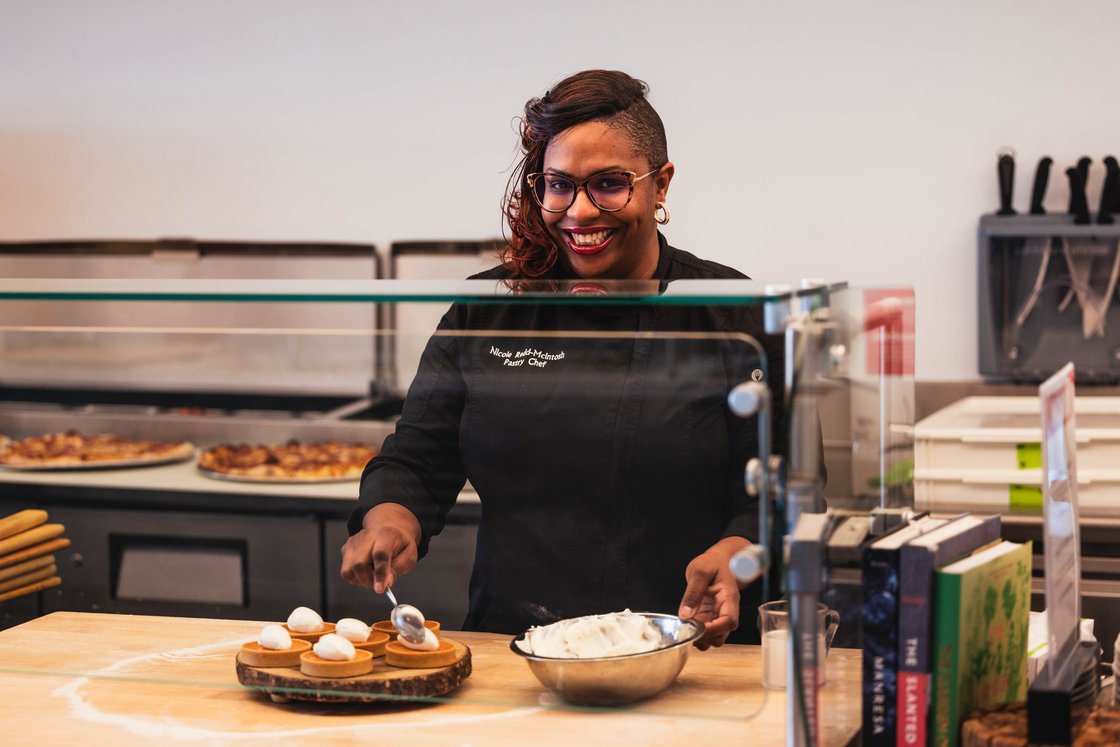 Now she makes sweets for all the Rioters and guests who come into our LA headquarters every day. While staples like croissants and cookies are always in the rotation, the unique creations keep Rioters coming back to see what Nicole and her team have baked each day. As I write this, I'm eating a strawberry pretzel cookie, and let me tell you, it's delightful.
"I love to bring savory into sweet," Nicole said after I complimented the cookie I was eating. "That's something I did a lot when I was in fine dining, in that environment you work closely with the culinary team, the savory side, and so you begin bringing that into your sweets. So for example, the strawberry pretzel cookie. I took that from strawberry pretzel pie, a dish popular in the Midwest and I simply turned those components into a cookie form."
While unique treats are often found on campus, one day a week there is a special menu where NOMs, Nicole, and her team really go all out. The specialty menus mark a variety of occasions but are mainly used to celebrate different cultures around heritage months or cultural holidays like Lunar New Year.
For Black History Month, the NOMs team went to work on two unique menus. Both of which have a special significance for Nicole.
"My family moved out to California from Mississippi in the 40s and 50s and they brought with them these traditional soul food desserts," Nicole said. "So when we settled on a soul food menu to celebrate Black History Month, I decided to make sweet potato pie and peach cobbler. My mom always makes sweet potato pie for the holidays and my grandma used to make this delicious peach cobbler. Those dishes mean home to me, they mean family to me, so I was excited to share them with Rioters."
It's safe to say the soul food menu was a hit. Even with the delicious oxtails, collard greens, mac and cheese, hot chicken, and everything else that was available for lunch that day, dessert was a priority. The sweet potato pies and peach cobbler ended up on every tray and people made it a point to save room for dessert.
Soul food reflects the important history of Black and African-American people in the US.

The team at NOMs on our LAX campus created a special #BlackHistoryMonth menu:

✅Ekko's Shrimp & Parallel Convergence Grits
✅Bilgewater Fried Catfish
✅ Phoenix's Flaming Mac & Cheese pic.twitter.com/c8KefCUzqX

— Life @ Riot (@LifeAtRiot) February 8, 2023
But that was just the beginning of Black History Month. After the soul food menu went off without a hitch, it was right back to the lab for Nicole and her team. Next up was a menu inspired by the African diaspora, a collection of dishes inspired by the wide variety of cultures that make up Africa.
"We are doing a Nkate Cake, which is a dessert from Ghana that's similar to peanut brittle and is popular across West Africa," Nicole said. "Then I'm making a South African Melktert which is a traditional and popular dessert in South Africa."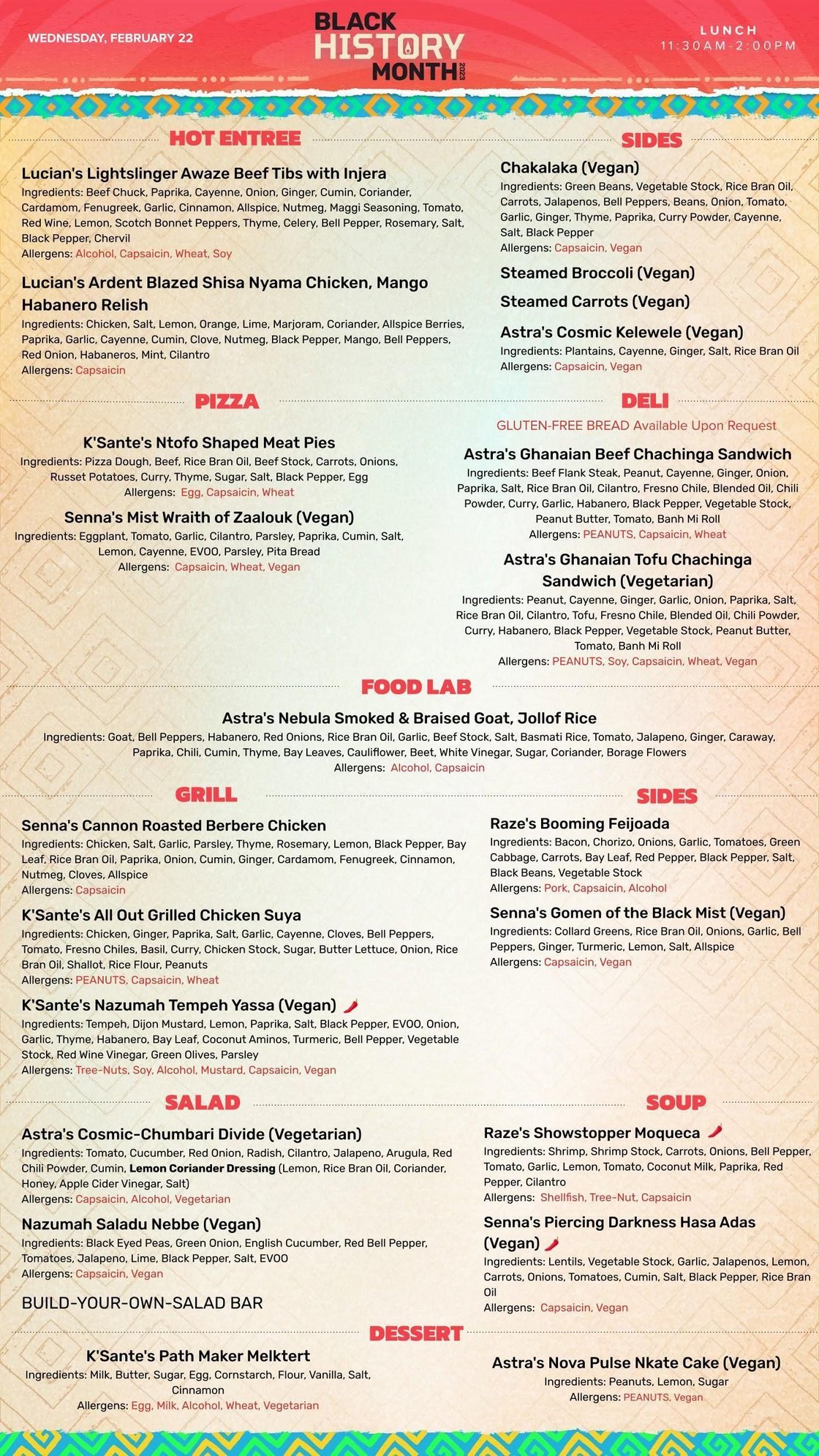 Representing a culture through its food is a big responsibility. Food is sometimes literally, and often figuratively, sacred to people, especially people living away from their homes. Eating a perfect bite that reminds you of home conjures feelings that go far beyond sustenance. For Nicole and her diverse team of pastry chefs, it's not a responsibility they take lightly.
"One of my chefs is from Turkey. I'm not from there so I can pull on her and ask, 'what are some flavor profiles you want to bring in here?'" Nicole said. "Another one of my bakers is from Colombia and she brings her personal perspective to it. It's so important to have a culturally diverse staff and I'm so incredibly proud that our staff is all women, too."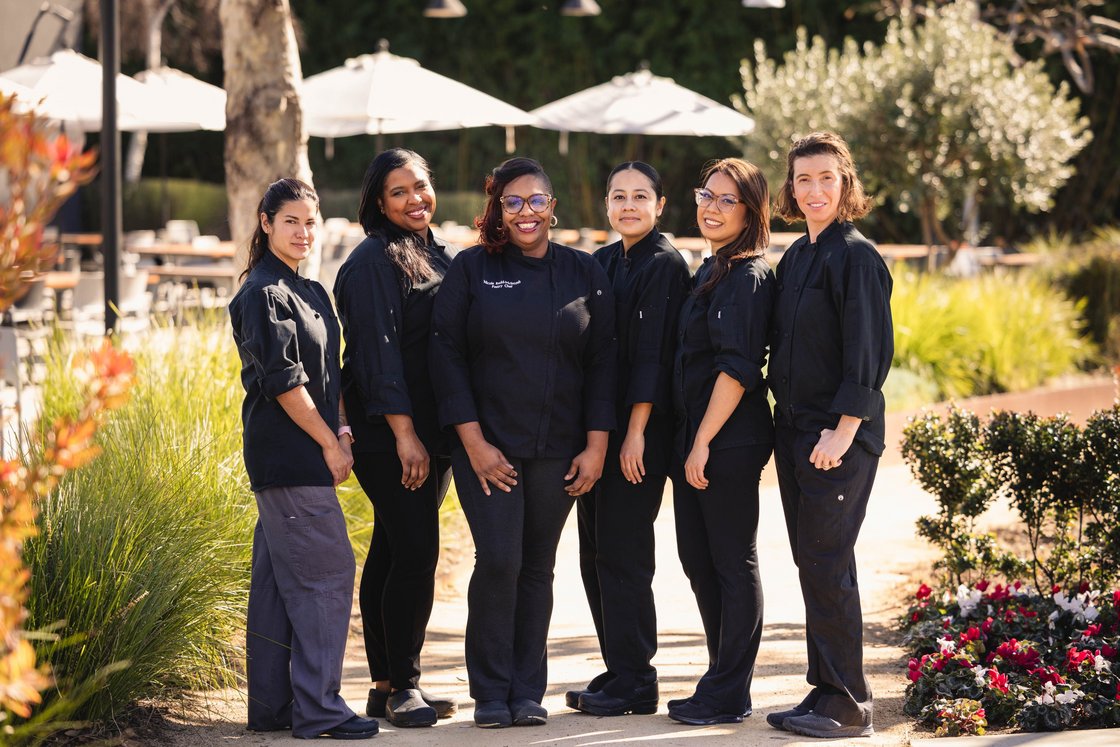 As a Black woman in the culinary world, Nicole knows what it's like to bring perspectives that other people in the room don't have.
"Going back to my culinary school days, there weren't a lot of Black culinarians, pastry chefs, or even regular chefs in that environment," Nicole said. "We're here but we're not talked about, we're not seen, and that happened a lot throughout my career. I was usually the only Black person in the kitchen. And that's difficult not having someone who looks like you and who you can bounce ideas off of. But I also took pride in my work in the kitchen, I wanted people to see me and think, 'wow this person is amazing, and she's Black, we need to create more opportunities for people of color to work in this kitchen.'"
Now, Nicole is in a position where she's proud to lead a team of women who come from all around the world, a group of incredible chefs who each bring their unique perspectives to the art of pastry-making, and who work together to bake some of the most creative - and delicious - desserts in Los Angeles.