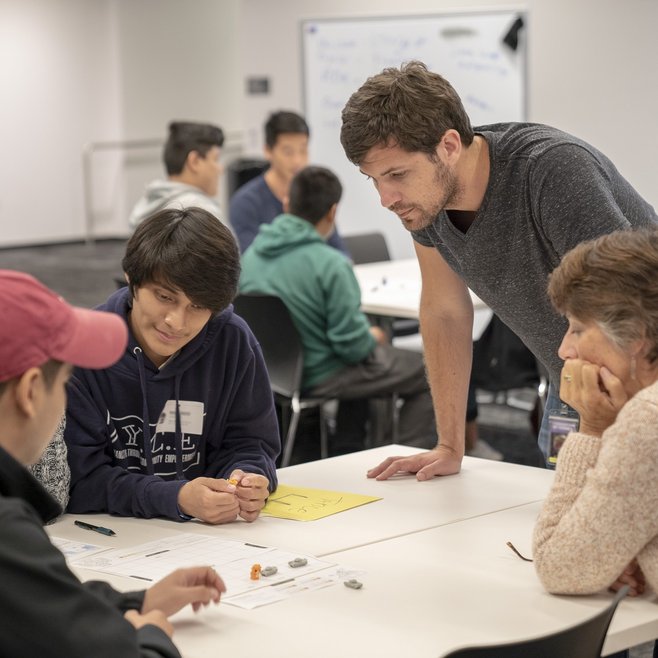 Background
In 2016, a group of Rioters launched URF Academy, an interactive game design workshop for high school students at our headquarters in Los Angeles. URF Academy's goals were to teach local students about fundamental concepts in game design and showcase the breadth of careers in the gaming industry.
After hosting more than 500 students over the course of two years, we expanded URF to several regional offices, including St. Louis, Dublin, Sydney, São Paulo, and Mexico City. Simultaneously, we began co-developing a free, online curriculum with two veteran computer science and game design educators to empower teachers to provide high quality game design instruction to high school students around the world.
Credits & Acknowledgements
We want to say thank you to everyone who worked on URF Academy Online. None of this could have been possible without your help.
Social Impact
Jimmy Hahn
Jeffrey C. Burrell
Communications
Blake Edwards
Erika Haas
Jordan Schmidt
Brian Chui
Jocelyn Monahan
Visual Design/Illustration
Chris Reed
Gabby Cherney
Jessica Martincic
Game Design
Matthew Leung-Harrison
Amanda Jeffrey
Stone Librande
Consulted Educators
Alicia Morris
Kathleen Mercury
Joanne Lin
Nancy Se
Legal
Dan Nabel
Additional Support By
Vishnu Kalugotla
Mike Foster

The URF Academy Online Game Design Curriculum is licensed under a Creative Commons Attribution-NonCommercial-ShareAlike 4.0 International License.