In the heart of Mexico City sits Estación Indianilla, a renovated electric power plant that still features two giant generators and has become a cultural center, an event space, and now, the House of Worlds.
"House of Worlds is a massive viewing party in a beautiful venue," said Mariano Vives, the Creative Director for Riot Games LATAM and a crucial component in making the event a reality. "It's an old electric factory that's kept this industrial look to it as it became a popular event space. And, in about a month from when we first decided to do this, we turned Estación Indianilla into the House of Worlds."
Organized by Rioters in Mexico City, the House of Worlds is a testament to Mexican culture, Latin American players, and the passion of this region. There is graffiti art of True Damage painted with flashy colors by a famous Mexican graffiti artist.
Fiddlesticks and Morgana in all their Star Guardian glory were on display between the two massive generators with Fiddlesticks head and shoulders above the now defunct pieces of equipment.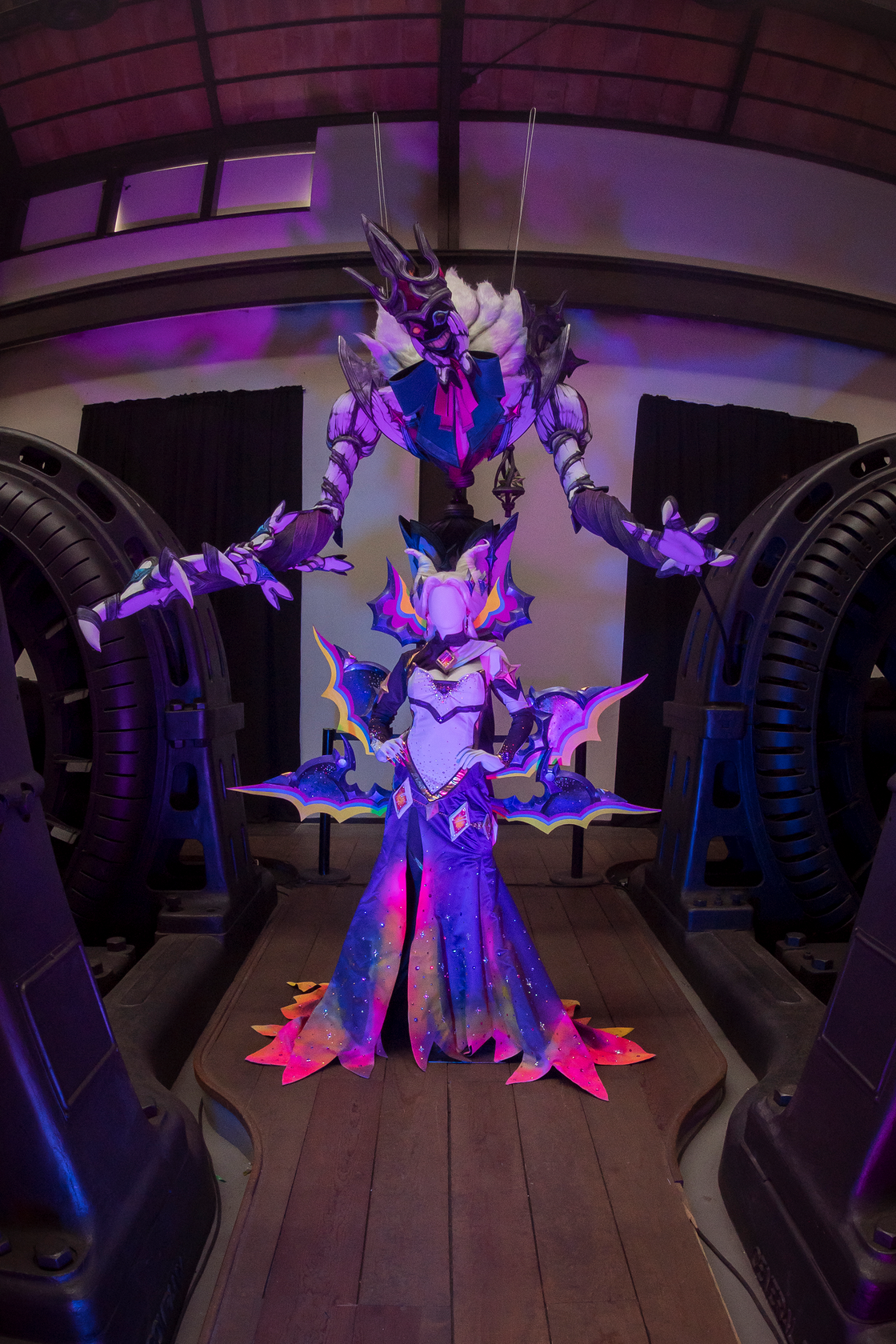 "To celebrate Star Guardians we made a Star Guardian cosplay video with Morgana and Fiddlesticks because cosplay is huge in Latin America," Mariano said. "You can even move it even though it's so large. You have to put a harness on and then you can move it with the poles attached to the arms. It's like having stilts attached to your hands."
There are also temporary tattoos, nail art, and so much more. Two statues of Vi and Jinx are popular stops for visitors to take photos. They're made by a local toy maker who normally specializes in making small action figures but scaled up from his normal designs to six feet tall for these statues.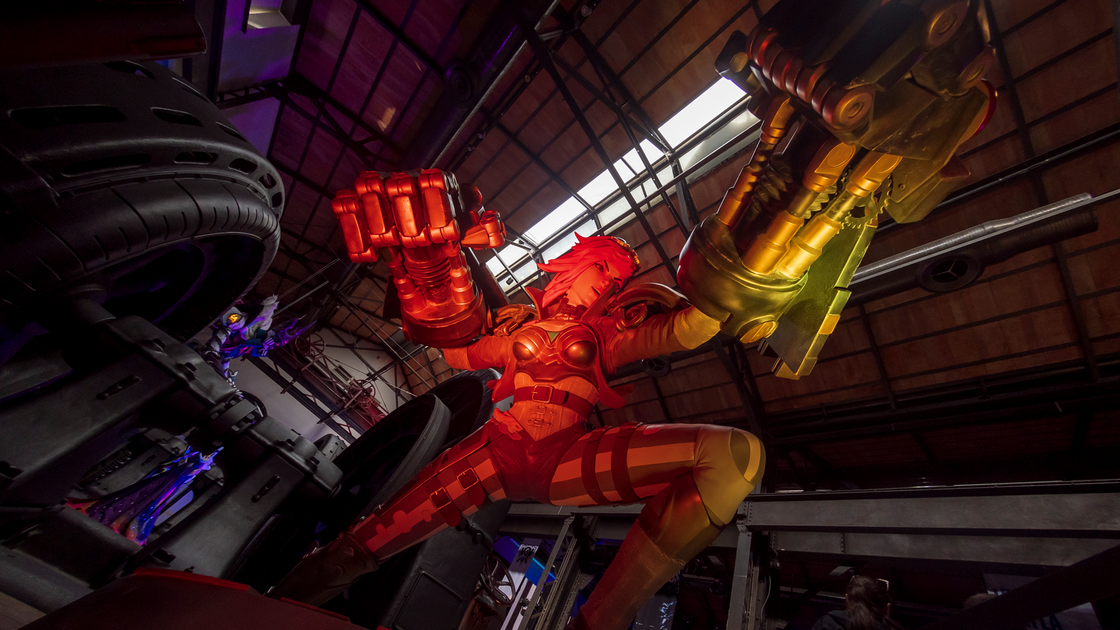 But when games are being played, all eyes are on the massive video screen. A crowd of 200 passionate League of Legends players sounds more like 2,000, aided by an array of thunder sticks. And that's before Latin America's top seed Isurus Gaming began their match against Vietnam's Saigon Buffalo Esports.
When the match began, a roar reverberated through the rafters. As Isurus and Saigon Buffalos traded kills throughout the first ten minutes, the crowd reached a fever pitch. Unfortunately, for the hometown crowd, Saigon pulled one ace and another pentakill with Isurus up against the ropes. It was the first time the House of Worlds fell silent all night – but it didn't last long.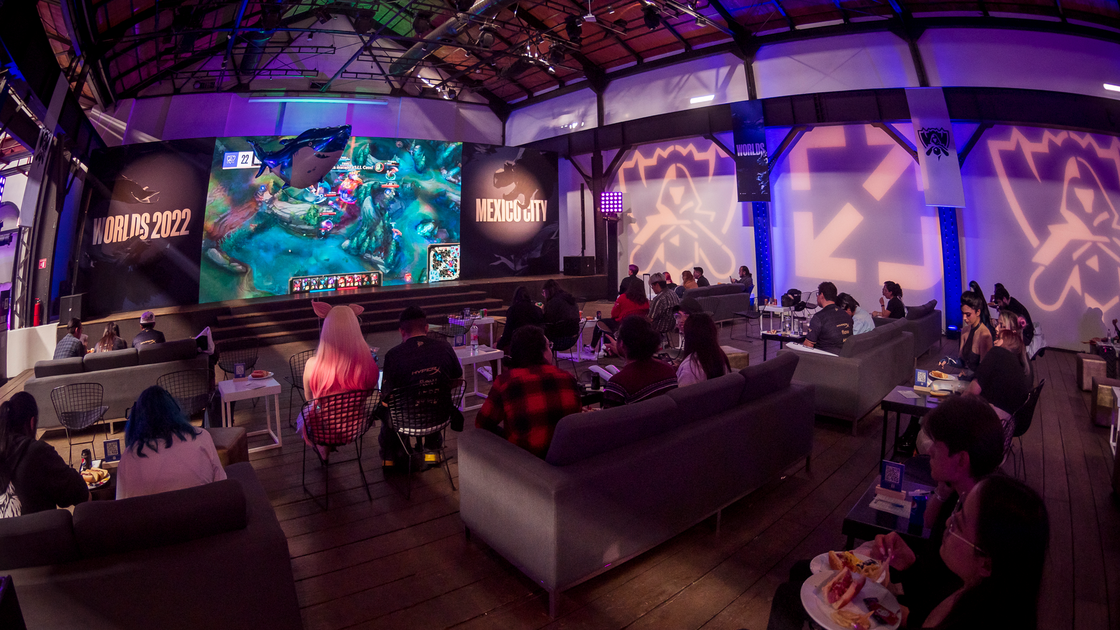 "My favorite moment was just seeing it full of players having the best time of their lives," Mariano said. "When Isurus is playing or when other teams are playing, it didn't matter, they were bringing the energy. And they're bringing that energy for eight hours over all the games which is a long time to keep that energy level up."
Throughout Worlds, both at the stadium in Artz Pedregal and at the House of Worlds, Latin American esports fans have stayed passionate supporters. Not just of Isurus Gaming, or of a favorite team or player, but of high-quality League of Legends. It's the mark of a fan base who truly loves the game and is reveling in the region's first chance to see it played live at the highest level.
"The goal for House of Worlds was simply to let more people watch Worlds," Mariano said. "We had way more demand than could fit in the arena in Artz Pedregal so it became a priority for us to create more ways for people to watch the games and House of Worlds was the result."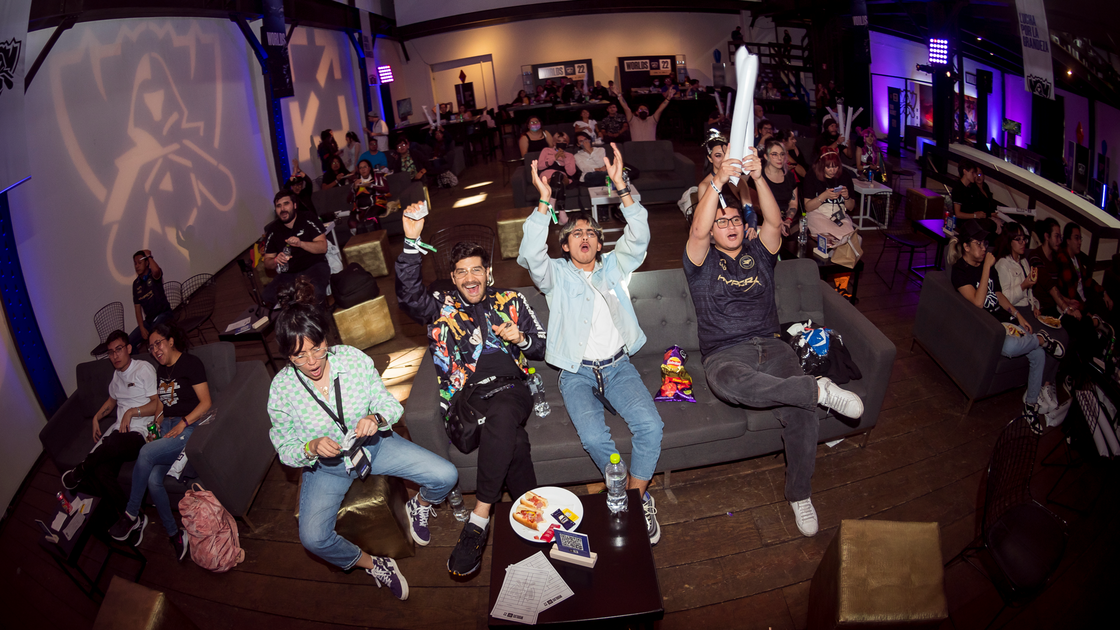 Every day, House of Worlds began as a viewing party. As the nights went on, the emphasis on "party" increased.
"I love how when you give something to the community, they make it their own," Mariano said. "There have been cosplay contests that we didn't even plan, they just happened. One of the players who attended is a DJ and she just started playing some music and it turned into a full-on party. And I think that's similar to our games, we make them and we give them to the community and they're the ones who make them what they are."
With fans on the outskirts of Mexico City at the arena in Artz Pedregal keeping the energy high, the House of Worlds sits in the beating heart of the city.
"Estación Indianilla is also about half a block away from the Arena Mexico which is the true center of Lucha Libre," Mariano said. "And because Lucha is such a big theme for us with Worlds, it's important we are nearby. Arena Mexico is like the identity of our city, it's super unique for Mexico City. The Lucha matches that happen there are not something that happens in the rest of the country, they're something that only happens in our city."
With artwork from the Mexico City office decorating the venue, a hall of highlights featuring some of World's most iconic plays, and a massive video screen attracting all the eyes, Estación Indianilla felt like it was made for Worlds. Even more impressive is that the team in Mexico City spun it up in just a month to make sure more players would have a chance to experience Worlds in a unique way.
"This was a conjoined effort of a pretty new team of Rioters here in Latin America," Mariano said. "Most of the Rioters who work here now are new Rioters. Daniella, our social media writer, Carla, our influencer manager, Gonzalo, he's part of my creative team who has been here just a couple of months. Without them, this wouldn't have been possible. And a huge shout out to the rest of the team as well, I don't want to leave anyone out, this was a massive team effort and everyone came together to make it a reality."
---
Be sure to follow the action throughout Worlds on lolesports.com to find the latest schedule, live broadcasts, and up-to-date standings as the best League of Legends teams in the world travel from Mexico City, to New York, to Atlanta, and finally to San Francisco where one team will earn the title of the "One and Only."