In the early 2000's, the gay scene in Dublin was quite small. Everyone seemed to know everyone, at least a little bit. So when Paul walked over to Patrick 17 years ago and asked him to dance, Patrick recognized him, and his long hair.
"I said no to dancing–and Kate Bush's Wuthering Heights is a hard song to say no to–because I don't do long hair," Patrick laughs as he remembers his first interaction with his future husband. "A few weeks later is my 22nd birthday, Paul shows up and he's cut his hair for me. We've been together ever since."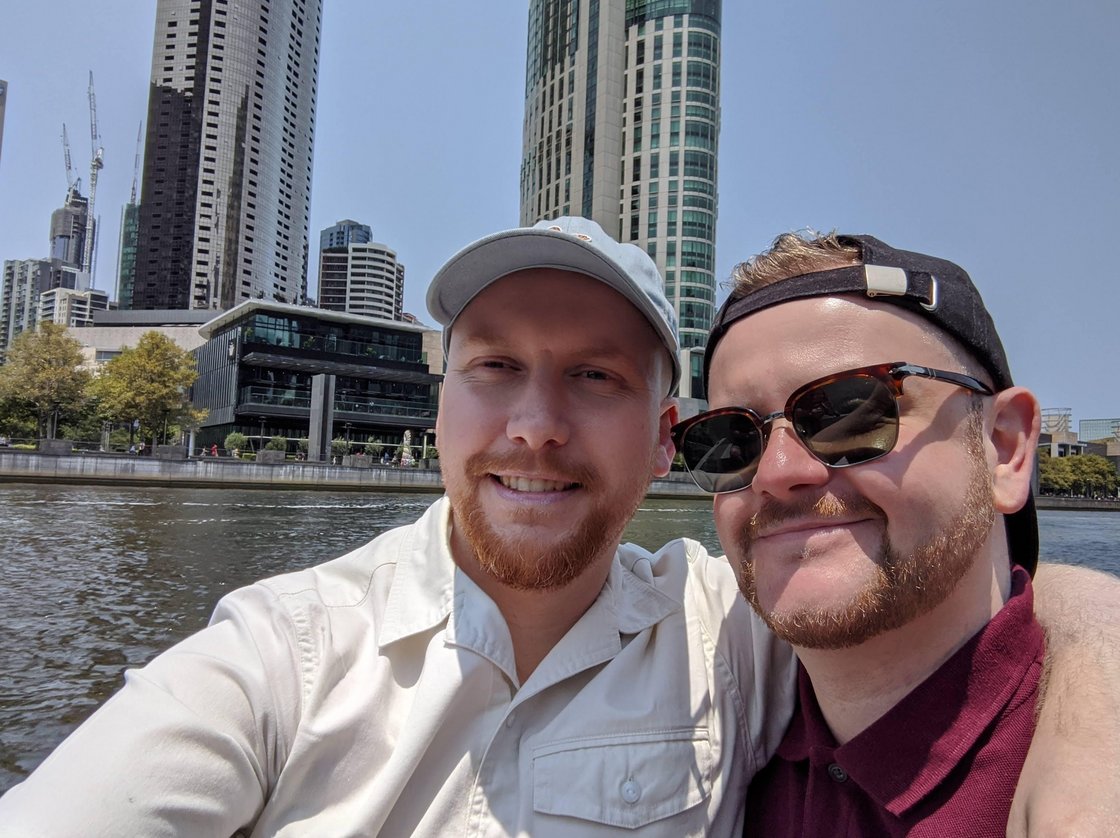 Patrick Ryan joined Riot in 2021 working as a diversity and inclusion advisor for Europe, the Middle East, and Africa (EMEA) out of our Dublin office. But back when he first met Paul, Patrick was a fresh college graduate sporting a sociology degree from Trinity College Dublin.
"Our whole relationship has been mapped out against the background of rapid social change," Patrick said. "In the early days of my career it wouldn't have been easy to be an out gay man and I didn't feel comfortable with it. So you'd watch pronouns and think about your plans around coworkers."
Patrick began his career in banking and finance, first with Citibank before moving over to State Street where he spent 12 years. As his career developed, so did his relationship.
Paul and Patrick moved in together, then they moved to Poland. After a few years, they came back to Ireland. During that time, the relationship kept getting stronger, but marriage wasn't in the picture.
"In the early stages of my career, of my relationship, if you asked me if I was going to get married, I would have said no," Patrick said. "It wasn't something we could do. I'd always assumed I'd never be able to do it because I didn't think it would change in time."
While the couple could have traveled to another country to get married or entered into a civil partnership, neither option felt right for them.
"It was just really important to us to get married in Ireland," Patrick said. "Our lives are here, our friends are here, our families are here."
In 2015, Ireland legalized same sex marriage. While it wasn't the first country to pass a marriage equality act, it was the first country where the issue came down to a popular vote.
"A landslide voted in favor of legalizing same sex marriage," Patrick remembers. "You are asking an entire nation to make a decision on something that directly affects me, my partner, and my life. It felt really important to be a part of it. Suddenly we could get married here and we wanted to do it here, so we did."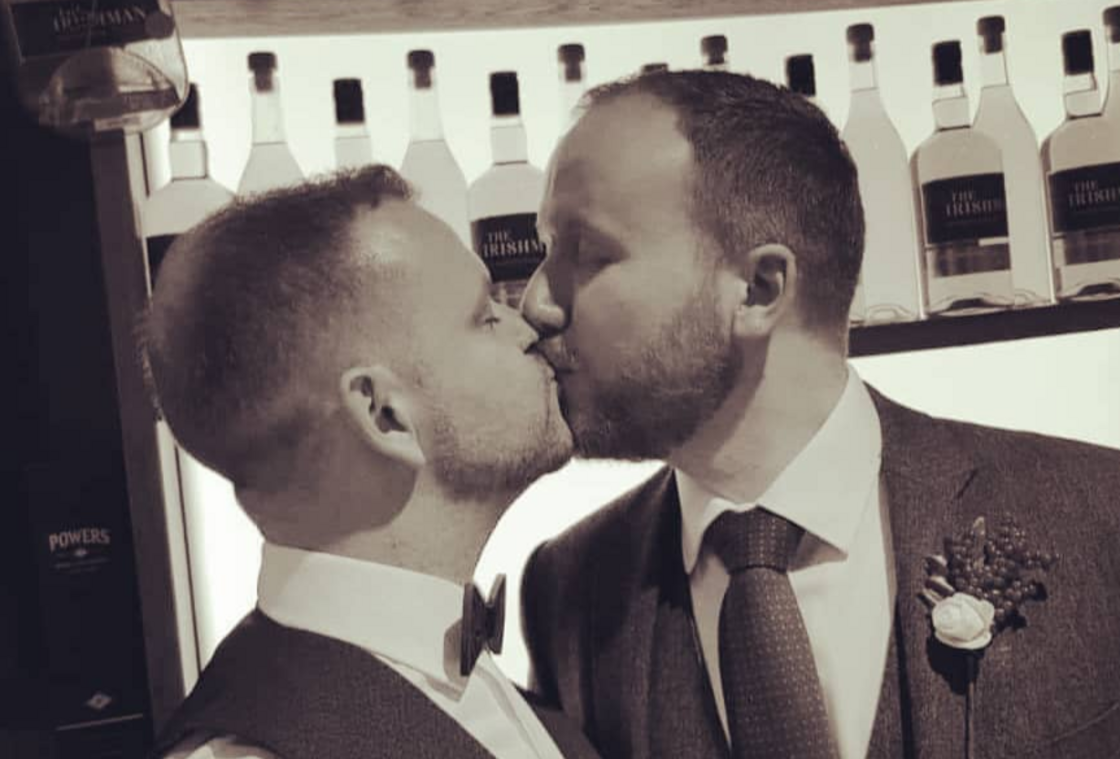 Over 1.2M Irish citizens voted in favor of the Marriage Equality Referendum, good for over 62% of the popular vote. The act came into effect on November 16, 2015. The first same sex marriage in Ireland happened the very next day.
Votes like these are important milestones of equality and recognition. But the shifts society goes through aren't as clear cut as the majority voting for equality. A societal shift is harder to quantify but recognizable all the same. It happens in the open interactions, in the way people express themselves, in how organizations and people make more room for inclusion and education.
"I remember when I moved to Poland, I was talking about the logistics with my manager at the time, and we talked about my partner," Patrick said. "I remember correcting them and saying 'my partner is a man.' It was awkward. It was fine but there was this awkwardness about it and the meeting ended quickly, I remember almost feeling pushed out.
"But when I came back, a few years later, there was something different," Patrick continued. "The company felt much more open, much more relaxed. I feel like that's been reflected by the changes in society, people are more open about their relationships, especially at work."
With that being said, there's still a long way to go. Plenty of places around the world are still completely closed off, if not outright hostile, to LGBTQ+ people. Companies have had to change. The first step is recognizing that the company culture has major issues to deal with–we know that step first hand.
But like society, companies can change and it is imperative that they do so. Now that's Patrick's focus.
"I hit a point in my life where I'm comfortable with myself," he said. "I didn't have to have the panic moment of coming out at work. But I found that I had colleagues the same age as me who had kids who were growing up and questioning their identities and sexualities. So my friends were having these coming out moments as straight cisgendered parents and they had questions. What should I do? How do I talk to my kids? How do I support them? So creating a resource for them became a big driver of mine."
With this in mind, Patrick agreed to create and co-lead the Pride Network at State Street. Around the same time, he was also involved with co-founding FuSIoN - Ireland's Financial Services Inclusion Network. FuSIoN is a network of Pride networks that grew from an original seven financial services institutions and banks, to more than thirty today. During his time at FuSIoN, Patrick led the Career & Professional Development pillar.
"It had to have a purpose, it had to have a strategy," Patrick said. "Sometimes a Pride Network is only a party in June. But for me, if we were going to do this, it needed to have a bigger impact."
The first event was the ABCs of LGBT, bringing clarity to the terms and words used to describe the various identities that make up the diverse communities across LGBTQ+. By partnering with the family organization in State Street, the Pride Network would join events where teenagers or kids would be present. They would have the ability to get some Pride swag but, more importantly, the opportunity to be curious and ask questions.
"Creating those networks and working really closely with people, that's where we have an opportunity to make meaningful change" Patrick said. "I saw the impacts of these events really be felt in the organization. I think there's a real opportunity now at Riot to do something similar, especially in EMEA."
For Riot, a company that prides itself on putting the player experience first, we must create an environment where every Rioter is welcome and able to be themselves. Gamers come from a wide variety of communities and so do Rioters. To speak to all players requires representation inside Riot so that our games are the best they can be, no matter where players are from, who they are, or who they love.
As a company, we've had issues in the past. Pretending like those don't exist helps no one. Riot is now focused on recognizing those issues and changing them throughout the company.
"When I started doing my research about Riot after I applied, things like Kotaku's [reporting about Riot] and Neom popped up right away," Patrick said. "But there was a real acknowledgement of 'we know we are coming from a difficult place and we've had some bad experiences, but we're really working hard to address it.'
"What struck me about Riot was that there was a commitment to diversity and inclusion," he continued. "I talked with the people on the D&I team and I really wanted to work with them. There's a huge challenge ahead in making a global company truly inclusive. But we have a big team, especially for the size of Riot as a whole, and we are committed to building out all the employee networks to make sure everyone has a seat at the table and feels fully welcome at Riot."
At Riot we call the employee networks RIGs, short for Riot Inclusion Groups. They're places for minority and marginalized communities and their allies to gather, talk about shared experiences, and be a voice for that community within Riot. So far there are seven:
Filipinos At Riot who empower, unify, and celebrate Filipinos at Riot and in the gaming community

Rainbow Rioters which fosters LGBTQIA+ communities and products at Riot and beyond

Riot Alliance of Diverse Genders which drives Riot to be a place where people of all genders thrive and see themselves reflected in Riot's products.

Riot Noir who amplify black voices and increase representation at Riot both in and outside of our products.

Riot Unidos which provides a supportive environment for LatinX Rioters and their allies by advocating for visibility, cultural bonding, and community outreach.

Veterans@Riot who support veteran Rioters and allies while increasing representation across gaming.

Asian and Pacific Islanders at Riot, our newest RIG, which supports Asian and Pacific Islanders by sharing experiences and increasing representation in gaming.
Patrick is one of many Rioters dedicated to continue building out all these resources, especially making sure the groups take on a truly global focus. These groups cover a range of different identities and communities, often coming together for co-mingled events that celebrate the intersectionality of diverse backgrounds. For Pride Month, Rainbow Rioters took the lead as they helped direct our Pride strategy, organized participation in Pride parades, and took the time to celebrate the entire LGBTQ+ community.
"There are still things that need to change or be improved for LGBTQ people," Patrick said. "The discussions are here but there is still homophobia, both in culture and sometimes written in law. There is still violence towards LGBTQ people, there is still discrimination. Pride is an opportunity to bring people in, to start conversations. Allyship is really important, if you come to the party during Pride, you need to be here the rest of the year. Stand up. Be vocal. Get involved. Speak out. That's what the LGBTQ communinty needs and we need it year round, not just during Pride."