Since 1987, March has been officially recognized as Women's History Month in the United States but celebrating women's achievements in March dates back to March 8, 1911, the first time International Women's Day was celebrated.
Over the years, Women's History Month has spread around the world as countries take the time to celebrate the achievements of women everywhere.
March is also home to the International Trans Day of Visibility, a day that celebrates transgender and non-binary people by highlighting accomplishments with the goal of turning visibility into action that benefits the lives of trans people.
Over the last century, March has become a month where we celebrate women, trans, and non-binary people for their achievements across politics, culture, economics, gaming, and so much more.
For Riot, Women's History Month is an important time as we uplift the women working at Riot, share their stories, and continue to work to remove roadblocks that exist for women in gaming.
Riot Alliance of Diverse Genders (RAD) and our central D&I team worked together throughout the month to showcase the wide variety of women who work at Riot Games. The theme for this year was Embrace Equity with Rioters around the company sharing what embracing equity means to them.
Women Across Riot Share Their Experiences
Cxmunnity Women Connect Panel
Working with one of our longtime partners, Cxmunnity, we had four women head over to Cxmunnity's Twitch channel for a panel discussion about their journeys through gaming. If you missed the live stream, you can check out the VOD below!
International Trans Day Panel
As trans people face continued discrimination both in the United States and around the world, it is more important than ever to uplift the trans community and highlight the people who are fighting to simply be who they are meant to be.
For International Trans Day of Visibility, we held a panel with trans people around the gaming industry to talk about their experiences, the current climate, and the progress we still need to make to create a more inclusive future for trans people everywhere.
IWD Social Posts
For International Women's Day, we talked to women Rioters around the world about why they love gaming and asked them to share advice from what they've learned over their careers.
For #InternationalWomensDay, we spoke to women across Riot about their journey in the gaming industry, their contributions within the company, and more. 🧵👇

— Life @ Riot (@LifeAtRiot) March 8, 2023
Power to Fly Recruiting Event
Later in the month, we held another panel, this time with our partner Power to Fly. With five Rioters attending, this panel showed the variety of ways women work to push Riot forward each and every day. If you missed the panel, the recording can be viewed on Power to Fly's website by registering with your email.
Maye Mac-Swiney Article
We spoke with Maye Mac-Swiney, Riot's Marketing Communications Manager for Iberia who works out of our Barcelona office about growing up as a gamer in Mexico, finding a home in the gaming industry in Barcelona, and the importance of diverse representation in games.
Women Got Game Summit and Esports Tournament
The panel with the most speakers of the month also saw an esports tournament, career resources, and more. With seven women from around the company joining in, this panel was dedicated to women of color and the ways their intersectional identities have impacted who they are and how they work.
Coffee Chat & Learn
RAD Genders partnered with the University of Southern California's Girls in Games, UC Berkeley's Marginalized Genders in Gaming, and UCLA's Gamers Without Labels for a coffee chat & learn. Over 40 students had the opportunity to get to know Rioters, hear their stories, and gain advice and tips for breaking into the games industry.
Celebrating Women Around the World
While Women's History Month began in the United States, many countries now celebrate women's achievements in March. Rioters around the world held their own unique celebrations for Women's History Month from Dublin to Singapore.
Europe, the Middle East, and Africa (EMEA)
In Dublin, our EMEA headquarters took the lead and held a virtual fireside chat with women around the region. They talked about creating community, making more inclusive and equitable spaces for women players, and how their own experiences impact the way they work to improve these spaces.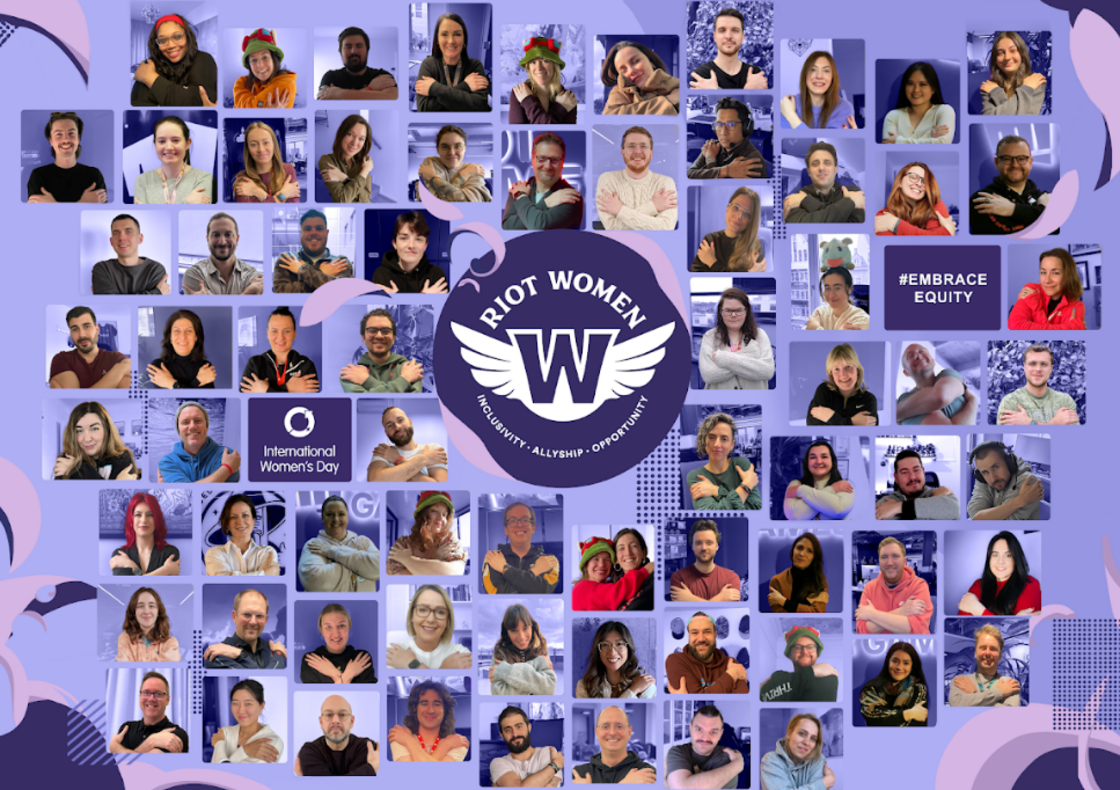 Asia-Pacific
Recently our Rioter Inclusion Groups went global. While they were always open to anyone from any office, by opening up regional RIGs they can better plan events at their offices, speak to the different experiences of women around the world, and simply become a better home for support and community.
Women's History Month saw Riot Women Asia work with our Workplace Experience Team to create stickers, snacks, and message boards in our Seoul and Singapore offices.
China
Our Shanghai office, which is our main base for our operations in China, hired a yoga instructor to help Rioters decompress and relieve stress. They also gave women a half-day at work in honor of the month.
Women Take Center Stage on Riot Campus
While education is a crucial part of Women's History Month, the month is also a celebration of the achievements and progress that we've made. A variety of events and mixers were held to bring women together to simply enjoy each other's company and eat delicious food.
Speaking of food, RAD Genders also helped create a unique menu that our on-campus cafeteria NOMs then made a reality. There were some amazing recipes on the list which resulted in an incredibly delicious meal.
This week, our RAD Genders team collaborated with NOMs to bring LA-based Rioters a delicious lunch menu inspired by women chefs in LA, including our own! ✨👇 pic.twitter.com/O8TyTj5k09

— Life @ Riot (@LifeAtRiot) March 9, 2023
Plus, RAD Genders also took over the company's Spotify playlist filling all of the offices with music from some of the most impactful women artists throughout music history.
Beyond Women's History Month
Naturally, our support of women at Riot isn't contained to just one month. We spend the year telling the stories of women Rioters, creating dynamic women characters across our games, and working with partners like Girls Who Code to inspire the next generation of gaming leaders.
We'd also like to extend a special shout-out to the team who works on Gamechangers. The 2022 Gamechangers Final was the most-watched tournament featuring all women and non-binary competitors in esports history. We are dedicated to continuing to build up the competition circuit to uplift more women into becoming the best esports players in the world.
Riot as a whole is committed to making our games a better place for marginalized communities by fighting against harassment, increasing representation across our games, and uplifting more gender-diverse voices behind the scenes.