SAMA SAMA
October is Filipino American History Month, which marks the anniversary of the first arrival of Filipinos in America at Morro Bay, California in the 1500s. Led by Filipinos at Riot (FAR), our employee resource group of Filipino Rioters and allies, we hosted a number of activities for Rioters to celebrate Filipino heritage. The theme this year was "Sama Sama" which means "all together" in Tagalog, a fitting theme for the first-year celebrations returned in person after two years of virtual events.
Filipinos are the second-largest Asian-American community in the U.S. and are the third-largest racial group in California. While Filipinos are a large part of the U.S., many people don't know the accomplishments & heritage of Filipinos. We want to bridge that gap and celebrate the accomplishments of Filipinos and all of the doors that have opened from the contributions of Filipinos throughout history. At Riot, our mission is to bring together a large community of players which aligns with Filipino culture where community is core.
Riot is Coming Closer to Filipino Players
This may be Filipino American History Month but it's a celebration of Filipino culture that naturally begins in the Philippines. Recently we announced a major change for players in the Philippines and Southeast Asia. Riot is going to self-publish our games in the region for the first time, ending a partnership with Garena that lasted more than a decade. You can find more information about all of the ways this will impact players in this article.
As part of our plans to self-publish, Riot is opening a dedicated office in Manila, Philippines where Rioters will connect directly with Filipino players, tailor the gaming experience to local audiences, and make sure all our games and products are as good as they can be for the passionate players in the Philippines and Southeast Asia.
Bringing Cultures Together at a Night Market
With Filipino American History Month overlapping Latin American Heritage Month, FAR and Riot Unidos teamed up to host a Night Market for Rioters at our LA office. The evening featured local, delicious Latin American & Filipino food like pupusas from Vchos and Lumpiang Shanghai from Big Boi. The event gave Rioters the opportunity to come together for a night of music, food, and learning about these two rich cultures.
This week, Riot Unidos and Filipinos At Riot teamed up for our first Night Market event to celebrate the shared heritage between Filipino and Latin American cultural backgrounds! pic.twitter.com/5bmngc8xuN

— Life @ Riot (@LifeAtRiot) October 14, 2022
Bringing Filipinos Together Across the Gaming Industry
To honor the idea of Sama Sama, FAR hosted a mixer that brought Filipinos across the gaming industry to Riot so they could share experiences, build relationships, and celebrate their culture. As one of the only Filipino specific ERG's in the games industry, FAR wants to help define what it means to be a Filipino in the industry. This mixer is a first step toward FAR's mission of uniting the global community of Filipinos in games.
Fabulous Filipino Brothers Movie Night
FAR hosted a virtual movie night for its members where they watched the Fabulous Filipino Brothers starring Dante Basco. Dante was a guest speaker during last year's Filipino American History Month celebrations. He talked to Rioters about his experience as a Filipino actor breaking into Hollywood and the importance of representation in media.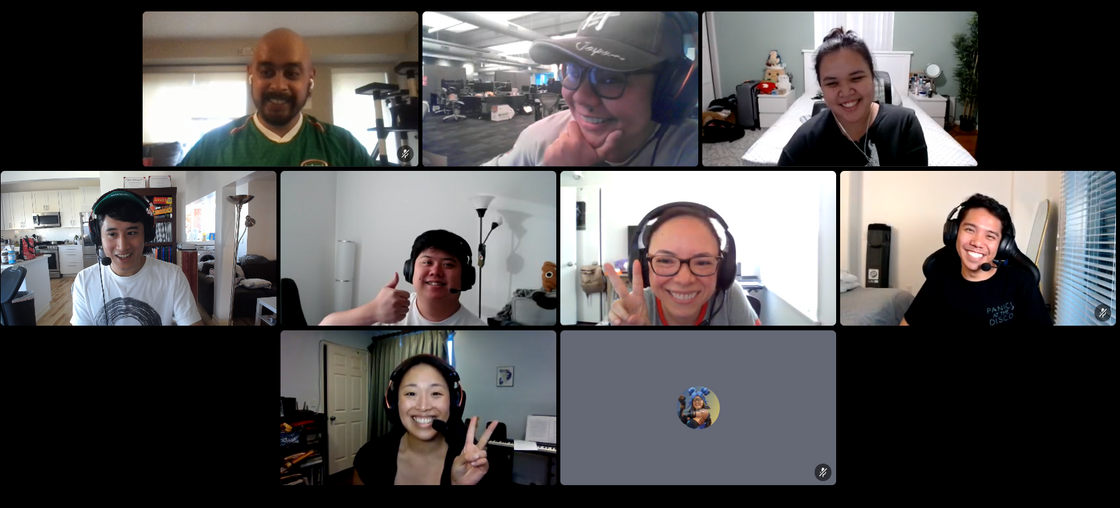 AND MORE
Last year we released two characters who meant a lot to the Filipino community in our games: Neon in VALORANT and Zeri in League of Legends. Both were embraced by players around the world but especially by players in the Philippines. Several members of FAR worked on these two characters and imbued them with so much from their own community. As we expand our presence in Southeast Asia, we are looking forward to bringing more characters from Southeast Asia into our games in the coming years.